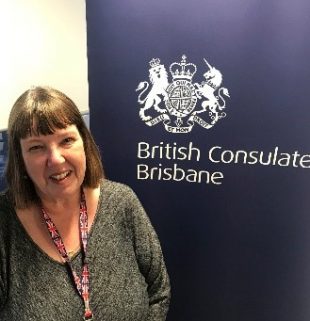 Megan Hunt
Vice Consul, FCO - Brisbane, Australia
Years in Public Service 29 years
My grandmother/mother was a…Shorthand Typist in typing pool! It seems extraordinary in this day and age where we are constantly working on our laptops, changing and amending documents that my grandmother would have had to start a new document from scratch if she made changes. My mother also used her typing skills as she worked for the BBC on the ticker tape reels (she vividly remembered the night the news that King George VI had died with the message coming into the news room on the pink cards). What would they think of the technology I now rely on I wonder – consular assistance and prevention messaging is out there on every social media platform - immediate and instant. And what would these women think about the role of woman in the workforce in a modern organisation like the FCO? When my mother married she was forced to resign (a victim of the Marriage Bar which remained in the Civil Service until 1946 and the FCO until 1973!). My poor granny had it even worse having to resign when she became engaged! Ever the rebel she told no one at work and only wore her ring at home - for 14 months! By contrast I work in a network with many roles now taken by strong and achieving women – my High Commissioner, my Deputy High Commissioner and every Consular Team leader in the country – I am very proud of how our contributions are perceived now, though to my shame I am a lousy typist!
Me in a paragraph
I am very family focussed. I am never happier than when my adult children and their husbands are sitting around the table for a Sunday roast (cooked expertly by my husband as I am not only a lousy typist but a lousy cook too!).  I care about my friends and my colleagues. I'm truly interested in others – I am a listener and, I like to think, a problem solver, both of which help in the approach I have to my work.
My role
What is a Vice Consul? I run a small team and we look after Brits abroad who get into difficulties. It might be as simple as a lost passport or more serious incidents like hospitalisation or arrest, even imprisonment or in the worst of cases - death. We are there to support those who need us at the most difficult times of their lives. Some might think that this is draining or depressing and, while it has its challenges, I have always found it such a privilege to be someone who can make a difference – however small.
If I had a magic wand, what I would do to accelerate gender equality?
I would like to see my current senior management cloned! Setting the bar high those at the very top of my organisation they have challenged themselves to strive to 50/50 by 2020. They "walk the walk" and "talk the talk" - our High Commissioner recently announced that she will only appear on panels if the membership is at least 50% women. It sends a strong message and her lead is being followed. 
Anything else you'd like to say
Thank you for sharing this initiative - a truly wonderful celebration and an opportunity to recognise how far we have come! Here's to the next 100 years!