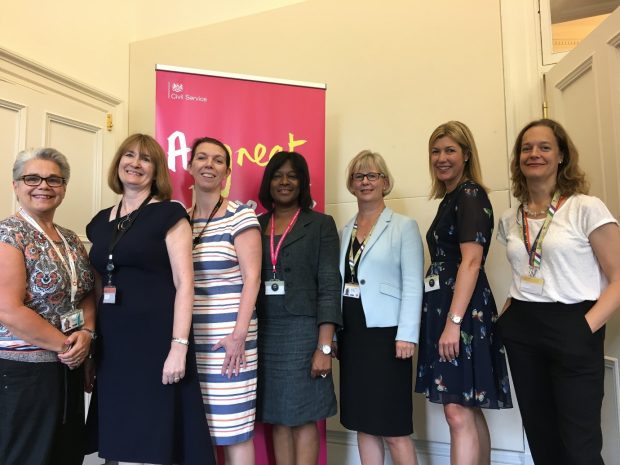 Here in HM Revenue & Customs (HMRC) we are often referred to as 'the taxman', with its associated imagery of red tape, grey suits and pokey, dimly-lit offices. This may well have been true fifty years ago when our workforce was predominantly male and women employed in more lowly clerical positions.
The 'marriage bar', meant women were forced to leave if they married -causing some to keep it secret. Astonishingly it was not abolished until 1946 for the Home Civil Service and 1973 for the Foreign Service.
Thankfully times have changed for the better. Our workforce is now made up of over 55% women and every year more women take up senior positions - currently 44% of our Senior Civil Servants. In fact our Executive Committee (ExCom) now has more women than men on the board. This is a massive step forward, and a first for any government department.
At a recent ExCom meeting we asked women to reflect back on their careers, and what it means to them to be a part of this mainly female senior leadership team.
Angela MacDonald, Director General - Customer Services
"What is important to me is that we have leaders in senior roles who are there because we have the capability to do the job and that diversity of approach and style is welcomed at the most senior levels. Is it a big deal? I would hope not, but the fact that we are talking about it means that there is still more to do. We need to make sure there is equality of opportunity and an inclusive environment that thrives on diversity.
Am I a role model? Good question. I believe we have an enormous talent pool here in HMRC and the Civil Service. When people are thinking about applying to join an organisation, one of the key things they look at its culture, including the leadership teams, to see if they think they will fit in. Seeing a diverse team encourages a wider pool of talent to apply. People see people like themselves and think 'I can do it'.
I'm conscious that I am a woman, I am not a lifelong civil servant, I am from and live in the north and I am an operations leader. Not many senior civil service leaders  have that mix but I know a lot of more junior colleagues who do. So if I can do it, so can they.
My advice for anyone who wants to progress is to make the first tiny step – ask to shadow a senior colleague, volunteer to present at a team meeting, get involved in a local network – believe that you have something to contribute and don't be afraid to ask for what you want."
Melissa Tatton, chief executive Valuation Office Agency (VOA)
"It is hard to believe how much has changed since my parents met in the then Inland Revenue. When they married, my mother had to seek permission from her employer to return to work as a married woman.
I have been a civil servant most of my working life and spent over ten years working part-time (in senior management and then leadership roles) balancing my family and career. While I was well supported, I know there were many other women who felt that was not an option for them. This meant the organisation lost some fantastic talent along the way. So I am delighted to see so many women are now expecting to be able to continue their career journeys as a matter of course - as well as so many men taking shared parental leave - without worrying that they've somehow "opted out".
I'm proud to be VOA's Chief Executive and hope that my journey motivates others to believe they too can develop their career and fulfil their potential. I'm also proud be part of a strong female cohort on HMRC's ExCom where it's clear that we're all different – and that diversity strengthens our leadership.
In terms of my advice, I normally encourage people to think about trying something different, not just sticking to what they know. But my mother puts it better! Her advice to me has always been: take the job, and worry about whether you can do it later. She would have made a great Chief Executive!"
Esther Wallington, Chief People Officer
Feels incredibly proud of the Civil Service when she thinks of her experience and how it compares with that of friends in other organisations
"There are very few organisations where I would have been promoted twice as a part-time senior woman, had such opportunities to develop my career across different roles and different organisations, and such flexibility during two periods of maternity leave and returns to work.
As gender champion in HMRC my goal is to help other women have the experience I have had, with understanding, supportive and informed line managers.
What we have achieved in the HMRC Executive Committee, which I think is unusual, is a team who debate openly, are not competitive but encouraging of one another, where high levels of confidence and assertion are not required and conversation is welcomed. Is this because women outnumber men? I think it is something the whole team has created, but the gender balance definitely plays a part. What I hope is that it sends a strong signal that as women in HMRC we can be ourselves and not to have to prove ourselves as equal before we can get things done. Let's preserve and build on this, and make progress."
Vicky Homsy, Director Risk & Intelligence Service
Vicky is deputising for Customer Compliance Director General Penny Ciniewicz, and joined the Civil Service 33 years ago as an administrative officer "with a handful of mediocre O-levels and one A-level".
For Vicky, "It says something about the sort of diverse and inclusive organisation that HMRC has become that 33 years later I am attending an HMRC Ex Com Board meeting! I have had the privilege and joy over the last 33 years to work for an organisation which has never judged me for who, or what, I am but has recognised me for the capabilities that I have and what I have achieved.  I am a firm believer, and I hope living proof, that anything is possible and that there is a strong career path for anyone who wants to progress.
Having a diverse workforce that is representative of our customer population is vital if we are to understand and serve the public well. Are we there yet? No. There is more work to be done but I look at how far we have come. In my first office the women occupied the clerical grades and all those in management and leadership posts were men. And that common. I am proud to have been part of an empowered female generation that have challenged and changed that for the better."
Jacky Wright, Chief Digital and Information Officer
Jacky has noticed a change in herself since becoming part of a senior leadership team with more women.
"When I arrived, it was a surprise to have so many women as my peers, but it was an interesting change to the male-dominated world I was used to. Of course, you draw something from both environments but I noticed, as an HMRC newcomer, that it took me less time to feel comfortable to speak than it did places I worked before. And Jon Thompson, our chief executive, has a lot to do with it as well. You can just be yourself, without worrying about how you come across. It's much easier to be yourself because you feel you have the support. You just naturally feel our ethos of inclusivity.
I think the dynamic of having a bunch of women around the table engenders more authentic discussions. That is the way it feels. It feels different. We naturally bounce things off each other and support each other. You don't have to fight to do that, it just happens naturally, which is a very different feel."
Ruth Stanier, Director General - Customs Strategy and Tax Design
Ruth says joining the Civil Service was undoubtedly one of the best decisions she ever made.
"I feel hugely privileged to have had the opportunity to work on some of the most important, fascinating issues of our time – from housing and homelessness to EU exit – while also raising my growing family. It is wonderful to see the current focus on diversity and inclusion, and the positive changes of recent decades, though of course there is always more to do. It is inspiring to work as part of HMRC's senior team where diversity and inclusion is valued for real.
It feels as though the world has moved on since I joined the Department of Transport almost 25 years ago. I was working on railways policy in a virtually all white male team where football was the only social topic of conversation. I tried hard to fit in, even listening to the football results at the weekend - but then blundered by forgetting that my boss supported Bolton not Burnley… That was when I realised I would do better just being myself.
A couple of years later I had my first son. I explored with my HR adviser the idea of a gradual return to work, but was bluntly told to decide properly whether to return full-time or part-time. By the time I had my second son eight years later, flexible working had blossomed. I benefited from job-sharing for a year and then gradually building back up to full-time. As a result of these experiences, it matters a lot to me to support colleagues with caring responsibilities, both women and men."
Subscribe to this blog for more stories from inspirational women. You can also follow Suffrage Centenary on Twitter.