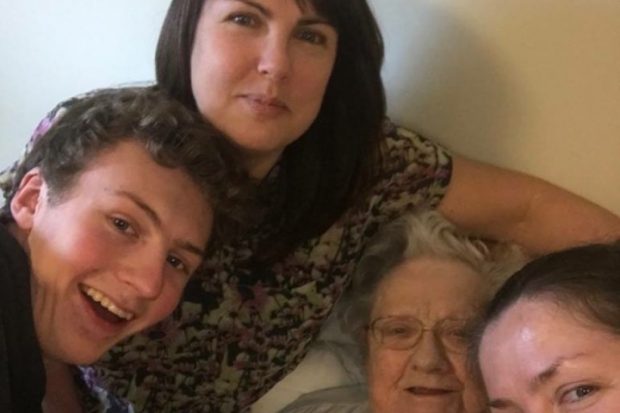 Profile
Job: Service Delivery Coach
Organisation: Department for Work and Pensions
Years in public service: 26
My Grandmother...
started her working life at 14 in a Laundry.
During the War she was ordered to go to Liverpool to work on munitions (which she loved once she got there) because her Father was dead and they would "not accept a Mother's word her daughter was needed at home".
After the war my grandma worked part–time in various roles including as a "home-help"- fussing over older people and looking after her grandchildren.
She loved the theatre and was a member of the local Operatic Society, performing in many shows and organising parties et cetera.
She is 98 and very bright and although she loved her life, she felt as though she could have achieved more if she had been born into a different class. She was always very ambitious for my mum and was delighted when my mum passed her 11 plus and attended Grammar school.
My mum trained as a nanny after school and secured a job with the Motte Cordonniere Family (owners of Stella Artois) in Armentieres, France before returning home to train and work as a special needs teacher until her retirement.
Mum, like her mother before her was very involved in the lives of her grandchildren when young.
Mum stayed at home until I was 12. Being very much a hands-on, organised person who set up playgroups and ran play schemes in the summer holidays, she missed work and felt frustrated by the lack of suitable childcare.
Like my Grandma she loved the theatre and was a member of the local Operatic Society.
I joined the Civil Service as a 'temporary' job after College, and have done various roles in Job Centres, Decision Making, and testing the Jobseeker's Allowance Payment System in Lytham.
I have also worked on the Jobseeker Direct phone line, completed the Princes Trust on behalf of my department, and more recently, worked as a Service Delivery Coach, Assistant Work Coach Team Leader and Job Centre Customer Service Manager.
Like my Mum and her Mum before her, I also love the theatre and belonged to my local group for over 20 years.
I cannot imagine how frustrating it must have been to have been limited to a few jobs because of childcare.
I feel in terms of opportunities, my generation of women have had the best deal to date. The flexibilities afforded me by working for the Civil Service has enabled me to develop a Career whilst caring for my family.
If I had a magic wand, what I would do to accelerate gender equality?
Affordable childcare.
Subscribe to this blog for more stories from inspirational women. You can also follow Suffrage Centenary on Twitter.