Profile
Job: Deputy Director, Air Quality and Industrial Emissions
Organisation: Defra
Years in public service: 16
My grandmother/mother was a…
My father's mother gave up the chance to train as an accountant to get married – she was of that generation where you had to choose between the two, and as part of the First World War generation she was glad to find a husband, as so many men her age hadn't come back from the war.
Fiercely intelligent, she kept perfect account books through her married life, and saved up for holidays by setting aside money from the change my bank manager grandfather left on the side.
She might well have been a better bank manager than my grandfather, who was great with people but not great with money!
My mother's mother worked at Bletchley Park in WW2, where she met my grandfather, translating the intercepted German radio emissions.  After the war she told people she had been painting spots on rocking horses during the war years.
She taught maths and French in schools and was active in politics.
My mother was offered a job at the Treasury when I was a small baby, but was told she would have to work until 9pm every night and wouldn't be able to take any work home.  Funnily enough, she turned it down.
She would have been a fearsomely effective civil servant.  Instead, she did a range of senior jobs in universities and think-tanks, where working life was a bit more flexible (though still involving lots of late night and weekend working from home), as well as stints in the Foreign Office Planning staff and teaching at the Civil Service College.
I remember doing colouring on the floor of her office as a small child.  Later on, she taught me to edit and proof-read, skills that have come in handy in the civil service.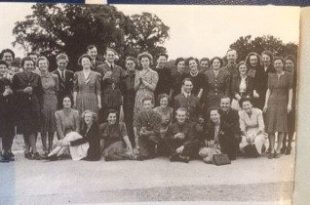 This is my Bletchley grandparents. My grandmother is 7th from the right in the back row. My grandfather is on the front row second from the right
Me in a nutshell
I'm a scientist turned civil servant who loves getting stuck into knotty problems involving evidence, people and politics and leading across boundaries to make progress on them.
My kids have taught me how to have more fun and be more creative, and I've been bringing more of that back into the office in recent years.
I feel hugely privileged to be able to work in the civil service with fabulous colleagues on such interesting and engaging issues, and grateful to have so much more flexibility in my working life than previous generations had.
My role
I head the team working to reduce the UK's emissions air pollution through the Clean Air Strategy which we're currently consulting on.
It's a fascinating mix of understanding and communicating the science, understanding the practicalities and possibilities, and working with stakeholders to develop and deliver ways forward that can make an impact. I really enjoy it.
If I had a magic wand, what I would do to accelerate gender equality?
I would make it normal for anyone to be able to work flexibly or part time and still be seen as serious about their job – if we want more equal access to work opportunities, we also need a more equal share of home responsibilities.
My husband recently started working from home one day a week to make it possible to take our son to one of his after school activities, and as a consequence some of the other dads at his office are now doing the same, because they see it's possible.
Anything else you'd like to say
The Vote100 celebrations have been a brilliant opportunity to reflect on how much progress there has been on equality since my grandmothers' generation.  The job's not done, but boy have we come a long way.
Subscribe to this blog for more stories from inspirational women. You can also follow Suffrage Centenary on Twitter.