Profile
Job: Senior Economist
Organisation: Defra
Years in public service: 12
Me in a paragraph
Anyone who knows me knows that I'm a bit obsessed by cats and horses. I have a pony who I bought as a project. She was almost unhandled when I first had her. She has taught me so much about myself and training horses. Horses are like a mirror so they tell you a lot about yourself. I love to keep learning and she has been a great conduit for this.
If I had a magic wand, what I would do to accelerate gender equality?
I would make the work world gender blind so what women said and did in the work place was perceived the same way as if a man said and did the same.
My great-great aunt Mil (Emily) was a factory inspector at the Home Office…
She joined the Home Office in 1904 on a temporary appointment as clerk to the principal lady inspector.
The women's factory inspectorate was established in 1893 with 2 women inspectors. It had taken many years of lobbying for the women's inspectorate to be set up. It had the specific task of investigating and regulating the conditions of women in factories.
At the time, women's wages in factories had been stalling, while those of men had been rising. Conditions in factories were often poor: they were often damp or dusty, some exposed women to poisonous substances (eg from dyes), women worked long hours (and did housework when home) but pay could be cut by employers imposing fines etc.
Canteens were rare, they became more common during and after World War 1 when the impact of poor nutrition on productivity was recognised. Until then, many young women working in factories were eating poorly (bread butter, tea and gravy).
The women factory inspectors worked to improve the conditions that women and children experienced in factories. They had to persuade factory owners to change conditions. Where there was no legal basis to do so they had to convince them to do so. This was often done by pushing the financial benefits of change.
They also needed to bring cases to courts, in the early day of the inspectorate this was in an era of the presence of women in courts of law being rare. It must have been tough for them to have made an impact in that male-dominated environment. The women's inspectorate brought real change to the lives of working women and children, it was a job that was tough but could really make a difference.
Back when she joined Civil Service, women were expected to resign when they married. Mil never married so she was able to pursue a career. She was first promoted in 1912 when there were only 17 posts in the women's inspectorate.
In 1921 she became one of the first 2 women to be appointed as superintending factory inspectors. The work involved a lot of travel, records show that she was in Devon, and during the First World War she inspected some munitions factories in Northern Ireland.
She pushed for curers of fish in Scotland to improve the conditions of their female workers. She seems to have had a reputation of being quite tough, records describe the curers as needing to deal with the 'onslaught' of her words.
My Grandmother and my father describe her as kind, but firm. As a child you would clearly have been on best behaviour around her!
She received an OBE in 1933 and retired in 1936. She moved to Maidenhead in 1938 and was active locally, being a member of the Maidenhead Education Committee and a governor of the county girls' school.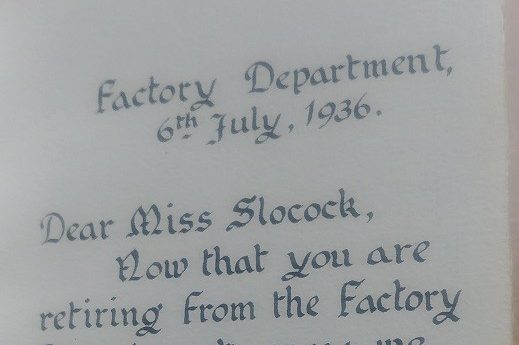 She lived until she was 90, passing away in 1964. Over her lifetime she would have seen a lot of change in the lives of working women. It became acceptable to continue working after marriage, more jobs became open to women, including in the civil service.
This is the leaving book that Mil was given when she left the Home Office. It was a leather bound book which had been signed by many people.
Subscribe to this blog for more stories from inspirational women. You can also follow Suffrage Centenary on Twitter.