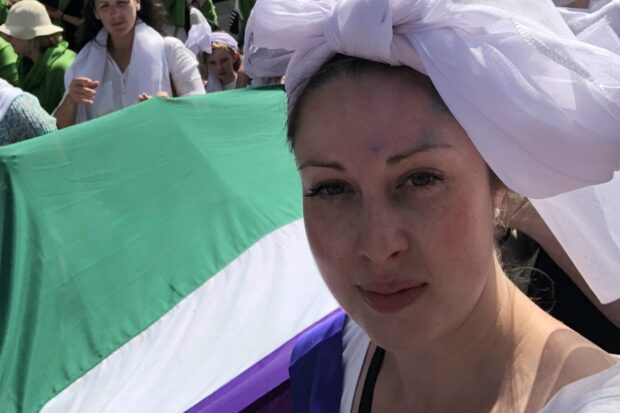 What a year!
When Keela asked me if I would like to help with the Suffrage celebrations I had no idea what I was letting myself in for. However, having known Keela for a little while I have learnt that if she asks, you say yes, because whatever it is you know it will be fun, important and BIG! And wow, she certainly has delivered!
This year has been like no other.
Back in 2017 I would never have imagined that that I would end up in a tiny editing suite in Southend finalising our video with HM Revenue and Customs; or speaking to colleagues in Cardiff, Newcastle and London at Civil Service Live; or replicating the Suffrage Pilgrimage by walking to Holloway carrying the suffrage flag (see how it went by visiting @suffrageflag); or be part of the team who won the Civil Service Diversity and Inclusion award for Championing Gender Equality; or be able to celebrate the lives and achievements of hundreds of incredible women through the 100 years, 100 women blog series.
I was already friends with Keela and Ellie but I also didn't expect to meet my new, incredible friends Victoria Boyes, who curates the blogs with me, and Charlotte Dring, winner of the 2018 Civil Service Diversity and Inclusion award.
It is truly wonderful to finish the year having gained so much and I want to thank Keela for bringing me along on this crazy ride. Thanks Kiwi!
Despite curating the 100 years, 100 women blog series, I have somehow managed to go the whole year without writing my own blog. So here goes (turns out it is harder than expected)…
My grandmother/mother was a…
I slightly took advantage of the very first blog to celebrate my grandmother, so it seems right that I bookend the blog series by paying tribute to my Nanny, Marie Sherry.
My Nanny was from Belfast and worked in the jewellery department at the Co-Op. As my grandfather had to work abroad, she was left at home to raise their four sons; no easy task living through the troubles in Northern Ireland.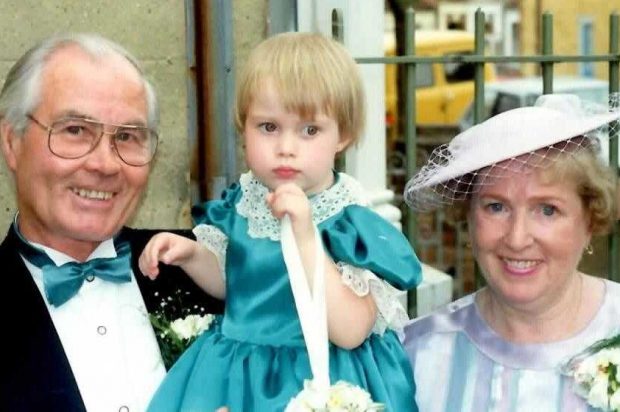 My grandparents were solid. The kind of couple that only needed each other. They were interdependent but as with everything, that could not last.  My grandad died suddenly in his mid-60s so once again my Nanny was on her own. I will never forget how completely bereft she was but like she had to do when she was younger, she pulled her socks up and sought her independence.
My Nanny was a fiercely proud, independent, determined and devoted woman, but most of all she was the perfect grandmother.
Sadly, I lost both my grandmothers in 2016, with my Nanny dying just a month before my wedding. When I look back at their lives, they both faced real challenges but had the determination and tenacity to push through. I am so proud to be their granddaughter and can only hope to be half as resilient as they were.
In terms of gender equality, I once described my grandma as progressive and she really loved it so I am certain she would be pleased with what we have achieved but definitely pushing for more.
It would be wrong to finish this blog series without mentioning my mum.
Mum raised me to be compassionate, community minded and driven. Growing up, she cultivated an environment where my brothers and I could be, or do, whatever we set our minds to. She is totally selfless and I am incredibly lucky that she is my mum.  We are also pretty much identical so it is helpful to know what I will end up looking like!
Me in a paragraph/My role
I have been in the Civil Service since 2012 and am currently Head of Biomass Electricity at the Department for Business, Energy and Industrial Strategy.
I am passionate about two things; the environment and equality.  I am so lucky that working in the Civil Service allows me to do both.
I am totally committed to developing a world where there is true justice for all, in terms of equality and also making sure that Climate Change does not disproportionately impact the most vulnerable.
If I had a magic wand, what I would do to accelerate gender equality?
I recently heard a quote by Dolly Parton which has become my new mantra "Find out who you are and do it on purpose."
If I had a magic wand, I would make sure that everyone knows who they are, are comfortable with it and are able to live their lives freely. I think that stereotypes and expectations of gender are damaging for all of us, and it would be much better if everyone could just be who they are.
Anything else you would like to say
I feel so privileged to have led this blog series and have been floored by all of the phenomenal inspiring, tenacious, dedicated and wonderful people that we have been lucky enough to profile. If this is the first blog you have read, please go back and read all of them! Each one is so special and celebrates incredible women in public life and their ancestors.
I want to thank all of our wonderful bloggers who have dedicated their time and effort to writing their blogs. It has been an emotional roller coaster, but I am so grateful to everyone who has shared their story.
I love hearing what writing the blogs meant to people.  Even if you did not write a blog, I implore you to speak to you mothers, grandmothers and aunts to find out about their lives. Everyone was young once and it is amazing what you will find out if you ask.
Looking to the future, there is only 10 years until the centenary of full suffrage which I think gives us just about time to plan something equally spectacular. Watch this space!
Ps, if you want to know more about the blogs, you might liked to read this blog about the blogs which gives you a bit more info on what it is all about.