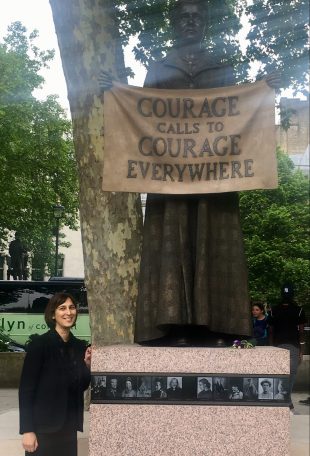 In March this year I was asked to speak at my Department's International Women's Day. In such a momentous year for women, celebrating achievements and voicing aspirations for the future, I wondered what I could speak about that would add something to the debate.
There are so many powerful stories that are being told this year – from those from the suffragette movement to those of the brilliant civil servants in this blog series – so I decided to tell the stories of three Asian women who have inspired me in my civil service career.
Perseverance and courage: Indira Ghandi
I grew up in the 80s and 90s in diverse, multi-cultural Wolverhampton. My mum's family settled in England from India in the 1950s and my Dad's family in the 1960s from Kenya. Like many immigrant families they instilled in me a strong work ethic, a passion for learning and the drive and determination to be the best that I can be.
After school I found myself reading English Literature at the University of Oxford.
It was a huge step for me – my grandmothers had grown up in a time and place in India where girls were not routinely sent to school and I was suddenly studying at a college with a jaw-dropping list of female alumni – Vera Brittain, Shirley Williams, Dorothy Hodgkin,  and the first female Prime Minster of India – Indira Ghandi.
The debates about access to Oxbridge, and indeed the civil service, and the concerning levels of BAME representation are still live and the issue of role models are often central to those debates.
My time at University was the first time that I felt my background could be a barrier – when I simply didn't have the same accent or vocabulary or the cultural and life references that enabled me to "fit in".
Indira Ghandi was the role model that I found – it was a bizarre feeling at the time as what would a working class girl from Wolverhampton find to share with a woman from India's political elite? The first quote of Indira's that I found is something that sticks with me today – "Opportunities are not offered. They must be wrested and worked for. And this calls for perseverance and courage".
The civil service has made huge strides in gender equality but there are still times when I find myself the only Asian women in a team, or in a meeting with senior officials, or with a group of stakeholders and those same feelings of not fitting in begin to surface. And it's at those times that I remember the importance of perseverance and courage.
The fight for equality and challenging stereotypes: Jayaben Desai
My proudest moment so far in the Civil Service was being part of the Small Business, Enterprise and Employment Bill Team.
We supported the Government Equalities Office to take through parliament the legislation for companies to report on their gender pay gap. I will never forget sitting in the box during the debates in parliament, and the thrill of reading about what we were doing in Grazia magazine on my commute into work.
The impact that this legislation is now having is a fantastic reminder to me of why I love working in the Civil Service so much.
We're now starting to hear that the ethnic pay gap is the next pay gap to tackle. As the debate develops I hope we will hear more about the inspirational Jayaben Desai. The story of the Ford Dagenham sewing machinists who walked out for equal pay is well known, but less well known is the story of a woman who has been called "one of the most remarkable women to ever have fought for workers' rights".
In the summer of 1976 Jayaben Desai led a group of South Asian women onto the streets in support of a sacked colleague and in revolt at poor working conditions at the Grunwick film processing factory in North London. The strike would eventually see more than 20,000 people joining the picket line and the women became known as the "strikers in saris".
As Jayaben left the factory building, her line manager compared her and her colleagues to "chattering monkeys". She replied: "What you are running here is not a factory, it is a zoo. But in a zoo there are many types of animals. Some are monkeys who dance on your fingertips, others are lions who can bite your head off. We are the lions, Mr. Manager."
The importance of the Asian female voice: Mala Sen
Mala Sen was a political activist and author who began supporting the Bangladeshi population living in the East End in the 1970s. At that time, men were often working in sweatshops and living in rented rooms serving as make-shift dormitories where they would sleep in the same beds according to their shifts.
These men were separated from their wives and children who remained in Bangladesh and could not secure permanent council housing because they were classed by the local authority as "single". Where families were living together this was often in single rooms.
Mala Sen co-founded the Bengali Housing Action Group, which highlighted the situation of many immigrant families and pressed the council to improve housing conditions. Her ethos was to empower other people to take their chance to empower themselves.
I was motivated to join the Civil Service through a desire to work on social policy and the types of issues that Mala Sen had fought so hard to improve, and this still drives me to be the best civil servant that I can be.
Sometimes the statistics still come as a shock.
A recent report into race and housing by the Human City Institute shows that forty years on homelessness has grown hugely in BAME communities – from 18% to 36% in the last two decades – double the presence of ethnic minorities in the population. BAME households are also more likely to live in overcrowded, inadequate or fuel poor housing.
Around a quarter of BAME households live in the oldest pre-1919 built homes. And their homes less often include safety features such as fire alarms.
Revisiting these stories this year and hearing so many new stories remind me of the importance of challenging stereotypes, the need to ensure that we continue to build a diverse and representative civil service, and the courage and perseverance it takes to generate the change that so many of us working in the civil service want to see.
The changes are needed both within our organisation and the communities that we serve.
So, this year it's another Indira Ghandi quote that I find myself coming back to: "Women sometimes go too far, it's true. But it's only when you go too far that others listen."
Amrit Bangard currently works in the Post-Grenfell Building Safety Programme at the Ministry of Housing, Communities and Local Government.  
Subscribe to this blog for more stories from inspirational women. You can also follow Suffrage Centenary on Twitter.