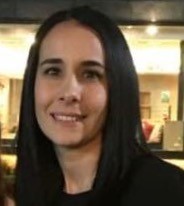 Jocelyn Sablich
Political Officer, FCO - British Embassy in Lima
Years in Public Service: 20
My grandmother/mother was a...
My mother was a housewife. Professional development opportunities did not exist for her, nor for women of her generation. Women were only allowed to take care of the house. However, her amazing job as a mother gave my siblings and me the values and tools to succeed. There is no doubt she would have loved to have the same opportunities for studying a career and achieve her dreams, as only men did back then. The progress in gender equality gives her joy, seeing their children all –men and women- became great professionals, and that her older granddaughter is following the same path studying at university. She is really proud and hopeful towards a real gender equality, but acknowledges there is still a long way to go.
Me in a paragraph
I am a passionate woman when it comes to defending Human Rights. From my work position, I do my best to protecting minorities and vulnerable people's rights. We need to be more empathetic towards every single human being no matter gender, language, ethnicity or any other difference, because we are all born free and equal.
My role
I work at the Political Section at the British Embassy in Lima. Most of my work is about positioning Human Rights as a government priority. Violence against women is a big issue in Peru; therefore, I work in cooperation with key government actors in order to tackle this massive problem based on UK´s expertise. LGTB rights, Modern slavery and Child sexual exploitation are also topics I work on to make Peru a place where Human Rights are valued and respected.
If I had a magic wand, what would I do to accelerate gender equality?
Gender equality starts in education. As long as we don´t educate the coming generations in this regard, progress will not matter. Since a very early age, we need to teach, not only at schools but also at homes, to respect and treat people as equal, while making them acknowledge that women and men are capable of achieving great things beyond their gender.