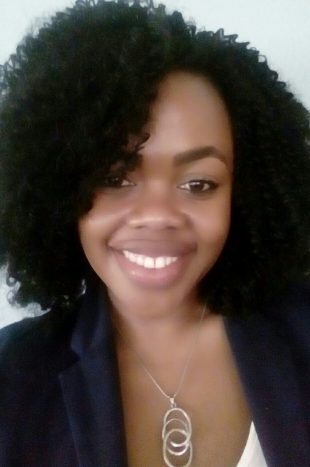 Masego Mokgohloa          
Technology Learning Adviser, FCO - South Africa
Years in Public Service: 10 months 
My grandmother/mother was a…
My late grandmother was my great source of inspiration and made me appreciate every opportunity that I was granted, starting with having the chance to finished my matric. She grew up in a time when girls were encouraged to go to school up to grade 7, if they were lucky and after that they were taught house chores and would go and become a farm worker or a domestic worker. My grandmother got married at a young age and became a housewife. Growing up my grandmother would always tell me stories about her childhood, how she was the smartest student in her class and how she would've made different choices about her life if she was born in my time. She would always assist me with my home-work and we would talk about what she would be doing if she was young again, in a time where women have rights and access to opportunities. She always made me appreciate being born in a time where I could choose to go to school and get a qualification.
The most liberating moment of my life was when I got my driver's license and I bought my first car. My memory of the day is that of my grandmother, with tears filling her eyes as she recalled her dream to one day own and drive a car, a dream that was not possible for her when she was of age because women were not allowed to own property or a car. 
Me in a paragraph
I was born in Soweto a large township that was home to some of South Africa's struggle heroes such as Winnie Mandela. In my younger years my family relocated to a newly developed suburb in the east of Johannesburg. I am the eldest of two children and come from a supportive matriarchal family. I've been a pescatarian for over 15 years. My interests include attending poetry sessions, watching theatre plays and hiking.
I have over 13 years' experience in learning and development across various industries including Banking, Telecommunication and Technology. I am passionate about People Development and Transformation.
I enjoy a good laugh.
My role
Helping staff get the most from existing technology in the Africa region. Ensuring high quality and effective Technology learning & Development is available to everyone within the FCO and across PAGs. Supporting the use of new technology available to staff with Tech Overhaul.
If I had a magic wand, what I would do to accelerate gender equality?
There is still a lot of work to be done. The important steps which still need to be achieved would be to hire the right people to strategically drive the development programmes for girls. Ensure that there is equal political representation and economic equity around the world, making sure that women get fair pay for their work.
Anything else you'd like to say
"Gender equality is more than a goal in itself.  It is a precondition for meeting the challenge of reducing poverty, promoting sustainable development and building good governance" - Kofi Annan