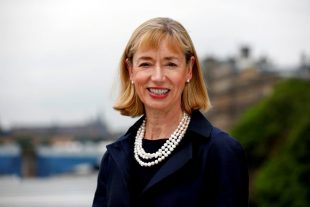 Leslie Evans
Permanent Secretary to the Scottish Government
Years in Public Service: 38
My grandmother/mother was a…
My grandmother witnessed the death of suffragette Emily Davidson at Epsom Racecourse in 1913. She worked in domestic service most of her life and lost an arm and an eye to a doodlebug bomb in London during WWII. My mother was 6 when she and her baby sister were sent to the workhouse orphanage, and she left school at 13 . Despite those beginnings she went onto qualify as a teacher, study for an education honours degree whilst working full time, and eventually to become a very successful head teacher.  My granny and my mum's feisty approaches to life shaped mine. Their verdict on gender equality? Keep going.
Me in a paragraph
I've always been passionate about public service, fairness, diversity and inclusion. In 2015, I became the first female Permanent Secretary to the Scottish Government – a perfect combination for me.  Outside of work you will find me having fun with friends and family, baking, practicing yoga and – as much as possible - in the Isle of Skye.
My role
As Permanent Secretary to the Scottish Government I have the privilege of leading thousands of civil servants in our work to improve the lives of people in Scotland. I am an energetic advocate and ambassador for Scotland,  and so am naturally ambitious for the Scottish Government .  I want to leave the organisation more diverse in thought and culture, capable of change, flexible and ready for the uncertainties that lie ahead.  Quite simply, I love my job.
If I had a magic wand, what I would do to accelerate gender equality?
If it really was a magic wand I would ensure all 15 year old boys spend a week as a girl.
But meantime…keep calling out outdated practice and assumptions, especially unwritten rules, patterns , and behaviours which can shape and influence our culture and can erode women's confidence and capacity to contribute. Let's all remember – what we permit we promote.