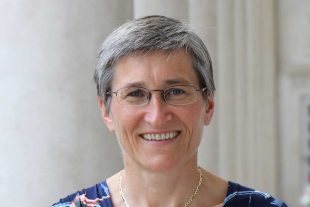 Permanent Secretary, Defra
Years in Public Service: 32
My mother was a…
My mother Rachel studied at Oxford and then joined the Civil Service as an Assistant Principal – a fast-streamer, in today's terms – working in the Ministry of Pensions & National Insurance.  The Civil Service was very hierarchical in those days.  Principals (Grade 7s) were entitled to carpet and Assistant Principals weren't, so the office that my mother shared with her boss had carpet running up to the join between their desks, where it stopped.  The marriage bar had been lifted by then but like most female Civil Servants at the time, my mother resigned when she had children.  Once we were all at school she returned to work, choosing teaching because it fitted in with school hours.  Later on she did a Masters degree and taught church history at university level.  My mother has always been involved with church issues and was a member of the Church of England's Parliament, the General Synod.  She campaigned for women's ordination for 50 years, from the 1960s until women were finally allowed to become bishops in 2014.
Me in a paragraph
My father and both my grandfathers were Civil Servants, as well as my mother, so I guess it's in the bloodstream.  I did consider other (public service) careers but the interest of the Civil Service outweighed the desire to rebel, and I joined the Department of Health & Social Security as a fast-streamer in 1985.  Women by then made up 20% of the fast-stream but I was unusual in having a maths degree, so I studied accountancy alongside my early roles.  I've been lucky enough to do over 20 jobs in 5 or 6 different Departments in my 32 years, and I never cease to be astonished by just how varied the Civil Service is.  But my life outside work is important too.  I've sung in choirs since I was about 5 and I'm delighted to be patron, as well as a member, of Etcetera the Civil Service Choir.  I worked every variant of part-time and flexible full-time going as my children were growing up, and am still searching for the holy grail of excellent work-life balance.  I go stir crazy if I can't get outside on a regular basis, which is one reason why Defra is such a perfect place for me to work.
My role
Permanent Secretary is a strange job title.  A colleague told me the other day that it had been translated into Japanese, and retranslated as 'the usual typist'.  I'm responsible for the overall management of Defra and accountable for the performance of the Defra group, which includes important arm's length bodies like the Environment Agency and the Rural Payments Agency.  It's a brilliant job because what we do in the Defra group matters to everyone in the country.  No two days are the same, though EU exit inevitably dominates at present.  I also spend a good deal of time on issues affecting the Civil Service as a whole and particularly enjoy developing the leaders of the future.
If I had a magic wand, what I would do to accelerate gender equality?
I'm constantly struck by the way that our everyday language reinforces a male model of operating. My bugbear is the word 'confident', which I blogged about a while ago, because I believe it's underpinned by an assumption that confident women must look like confident men.  And they don't.  There are many other examples besides that, from metaphors based on traditionally male sports to 'bossy' women versus 'assertive' men.  It's so ingrained in our language that we don't notice day-to-day, but these are all micro-barriers to gender equality so I'd love to sweep them away.  With a magic wand, I'd do that with a single sweep of my arm.  In real life it's a question of noticing, calling out and then gradually seeing change occur.