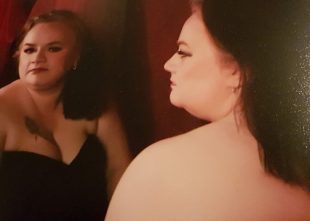 Job: Customer Services Admin Officer
Organisation DWP-Debt
Years in Public Service 13
My grandmother  was a…
Weaver, as was my mother initially. I come from a small village in the hill country of Lancashire and weaving (and mining for the men) was the norm. My mother was a stay at home mum until my younger sister started primary and then finances forced her to go back to work. Over the years she did a variety of jobs (dinner lady/cook/cleaner) but was always focused on family. I come from a line of ordinary, strong men and women and take some pride in this.
Me in a paragraph
My main focus is my family. I am married and have a step daughter, although the greatest sadness of my life is that I do not have my own children having lost 3 in miscarriage- 2 due to (past) domestic violence.  I am an ordained interfaith minister/counsellor, Pagan priestess and healer (Reiki master). I also love to write and am in the process of collaborating with my father on a book as well as translating (Slowly!) 2 Swedish books that relate to my personal beliefs.
My role
My main role is in writing response to Contribution To Business request from other offices- very in-depth and short time scaled work. I am also the mentor for the team (have ILM mentoring at work qualification) and generally try to be as open and helpful as I can. I enjoy my work but not the fact that I work for debt. 
If I had a magic wand, what I would do to accelerate gender equality?
 I do have some discomfort with the whole thing as I tend to think that women can sometimes beat men over the head with the issue and seek to get a leg up just because they are women at times.
I very much believe in equality – that means that being women should not disadvantage us but neither should it be an advantage. Makes me unpopular in certain circles but.. – a classic example being Dr Who (yes I'm a Whovian!)- although I don't dislike the thought of a woman Dr I think if the actress was picked as she was the best woman, that is not going to work; if she was picked as the best actor, who just happened to be a woman, then I think it will succeed. …
Anything else you'd like to say
As an AO who has been actively seeking a promotion for over 3 years I do find it frustrating at times that I am still being rejected for jobs that I know that I can do.