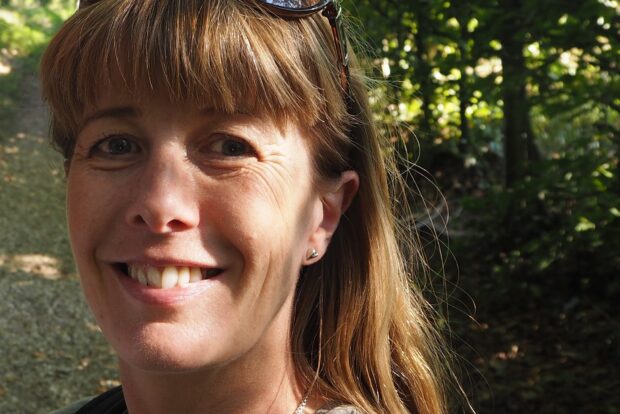 Profile
Job: Fraud Investigator,
Organisation: Department for Work and Pensions (DWP)
Years in Public Service: 27
My grandmother/mother was a…
My great-grandmother, Rose Lillian, was a woman whom I never knew, having died in 1939 just before the outbreak of the Second World War. Born in 1885, she married Henry Walter in 1901 and had her first baby in the same year. In 1918, when women with property aged 30 and above were given the vote, she was just 33 years old. By this time she had over ten children, my own grandmother, Dorothy, being one of them.
This helps me put women's suffrage of that time in to some sort of perspective and links me to that generation. Rose Lillian would have seen the newspapers with the front page showing Emily Wilding Davison walking out in front of the King's horse at Derby Day in 1913.
She would have also known that many of those who were imprisoned were force fed with tubes which damaged their vocal chords permanently, or where the food went in to their lungs. In the days of no antibiotics, they literally risked their lives from infections and pneumonia. They not only risked their lives for my great-grandmother and my grandmother, but also for women of today.
I have an interest in women's social history and as an almost 50 year old who has always exercised her right to vote I am reminded by the small degrees of separation there are between myself and those brave women who fought for that right.
I was very close to my grandmother (Dorothy), or 'Nanny' as I used to call her, and she shared so many stories with me when I was a very young child about her parents and siblings. I think it was because of this that I became interested in social history and genealogy. I spent hours and hours drawing out my family tree and asking Nanny about our family.
Five of her siblings (my great aunts, Beatrice, Ena, Ethel, Helen and Olive) when very young children, were sent to Canada in the early 1920s as part of the Child Migrant Programme. More than 130,000 children were sent to a "better life" in former colonies, mainly Australia and Canada, from the 1920s to 1970s. This was often from large families, or children from children's homes.
There are many stories that have come out since these times of child neglect and free labour for farming families overseas. Luckily my great aunts did not have such a difficult time, although I can only imagine how frightened they must have been, having been separated from their parents and siblings and sent to live in a strange country. One was only 8 years old at the time!
It was only after the inception of the internet and ancestry tracing online that I was able to follow my family's social history and trace their stories. Only one sister was still living by the time I tracked them all down; Helen. She passed away a couple of years ago at the age of 99. She had memories of living in the UK and remembered her sister, Dorothy.
Beatrice, Ena, Ethel, Helen and Olive all had families of their own, some of whom I am now in touch with. The sisters also stayed in touch with one another throughout their whole lives. Through the wonders of Skype, email, Facebook and Instagram I now know Ethel's granddaughter and Beatrice's grandsons. The digital age has made our world seem a smaller place indeed!
My fascination with social history started here and continues. Times have (thankfully) moved on to large degree. Women in those days had large families but not from choice. There was little in the way of help, certainly not the welfare state that we know of today.
I think that my great-grandmother's life must have been a great struggle. To say goodbye to five of her children, knowing that she could not provide for them all, yet thinking she would be giving them a chance for a 'better life', must have been heart-breaking. For her to have also lived her early life during a time when women did not have the vote (certainly not for her, as she was 'working class' with no property of her own) it must have been tough indeed.
Me in a paragraph
I am a person with a clear sense of my ancestry and where I came from, which seems to me to be from a long line of strong women! I think I was greatly influenced by the stories I heard of those women and what they would have faced through their lives, not just because of their circumstances but because of the times in which they lived.
I try not to take any of the opportunities I have for granted, knowing that I have had the benefit of a good education, a career and being able to make choices about how I live my life. You could say that this is partly down to the movement started by those brave Suffragettes.
My role
I am a Fraud Investigator in West Sussex, Southern Counter-Fraud and Compliance unit. I have held this role for 3 years now, although I have worked in the fraud sector doing various other jobs, such as personal assistant, Intelligence Gathering Officer and Disclosure Officer. I have worked in DWP and it's predecessors for 27 years, in the old Unemployment Benefit Offices and in the Job Centres.
I suppose I am inquisitive by nature, so being a Fraud Investigator suits my inquisitive mind! In my job I also see the background of what is behind benefit fraud, what motivates people to do this and how their situations can (sometimes) influence their choices.
If I had a magic wand, what I would do to accelerate gender equality?
To quote Maya Angelou "I am a feminist. I have been female for a long time now. It would be stupid not to be on my own side."
The most important steps towards this would be for women to have equality, or equal opportunities, in all aspects of their lives. For example, men to have the same paternity leave entitlement as women, or to be able to divide the time off given to the mother equally so that they get to have time at home with their baby.
Subscribe to this blog for more stories from inspirational women. You can also follow Suffrage Centenary on Twitter.