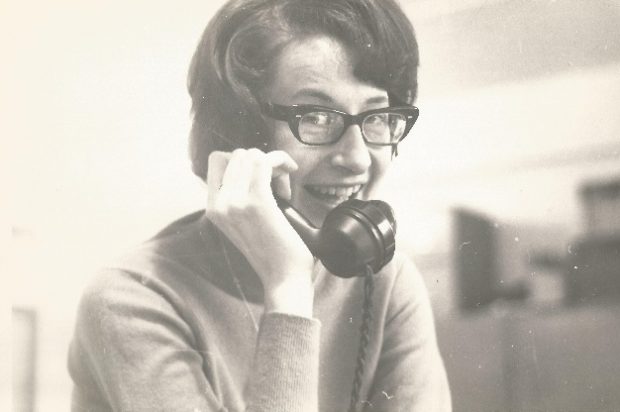 Mum was a civil servant. And I mean that in the way you and I and a lot of civil servants are civil servants: it pulsed through her veins.
She joined in 1963. She was pleased as punch to pass the civil service exams, allowing her a career straight from school (a radical move for a woman from her family). Moving into a tiny one-bed flat in South Kensington with two other young women; she loved the freedom of living and working in London.  She used to tell me about how proud she was of being part of the Home Office's immigration service and the UK government's actions to repatriate Ugandan Asians from President Idi Amin's awful regime.
We know from our archives that the marriage bar was abolished in October 1946 for the Home Civil Service, however when mum married in 1970 she was offered £50 as a marriage bonus on condition she left the civil service. What a perverse and brutal decision to isolate passionate and dedicated married women and pay them to take their talent out the door!
Mum would tell me, in an accepting tone, that this was the way it was and the £50 was appealing to a cash-strapped couple (mum and dad had their eyes on a fridge to purchase with the money). In a way that I see time and time again from persistent civil servants, mum didn't battle the system - she revealed its absurdity and found a way through.
She had applied for promotion at the same time and the promotion board looked on her as an individual, recognised her ability and promoted her. In such a way, she sidestepped the move to push her out as well as securing a pay rise to buy that fridge.
Three years later mum was pregnant with my brother and, as was common at the time, she decided to leave her central London job to bring up children and work nearer to home.
After a 17 year break she returned to work at the civil service. I like to think that she was a trail blazer for the government's new Returners programme.
As a 17 year old  I travelled with her into London and walked with her to her interview. I waited in Tate Britain whilst she was in one of the old Horseferry road offices and I heard her excited talk as we travelled back to Hertford together - I could not be more proud.
She died only last year and her return to the civil service (together with completing a degree the age of 55) had a profound effect on me. What confidence and drive to say 'this is me, I am good at this' and what an example to set her daughter who was figuring out what possibilities were open to her in the world.
Mum loved her job. She loved the work, she loved the people. When my dad retired she kept going. It was a wrench for her to finally retire and so she did it in a phased way. She became treasurer of the Home Office Retired and Reunited Staff Association, working diligently for this organisation for many years.
She would excitedly tell me about coming to the new 2MS (as the Home Office is affectionately known), and our two working worlds finally collided when I walked down the stairs and met with her in one of the conference rooms during a reception event to remember the Home Office war effort during the commemorations of World War One.
After retirement she volunteered for ten organisations (this is no exaggeration, my father listed them at her funeral). Her belief in having a role to affect change in society is what I mean by the civil service pulsed through her blood. She felt a responsibility and a drive to be the change in the world.
When words failed me at her funeral, I turned to the weighty tome of Middlemarch and I think this description is true of mum, and of many civil servants
"But the effect of her being on those around her was incalculably diffusive: for the growing good of the world is partly dependent on unhistoric acts; and that things are not so ill with you and me as they might have been, is half owing to the number who lived faithfully a hidden life"
We all stand on the shoulders of the giants that came before us. I am reminded of this in my work to commemorate the brave and inspirational women that led the suffrage movement. My mum would not recognise 'giant' as a term that applies to her, but I do. I am proud to be a second generation civil servant and to carry on where mum left off.
Subscribe to this blog for more stories from inspirational women. You can also follow Suffrage Centenary on Twitter.