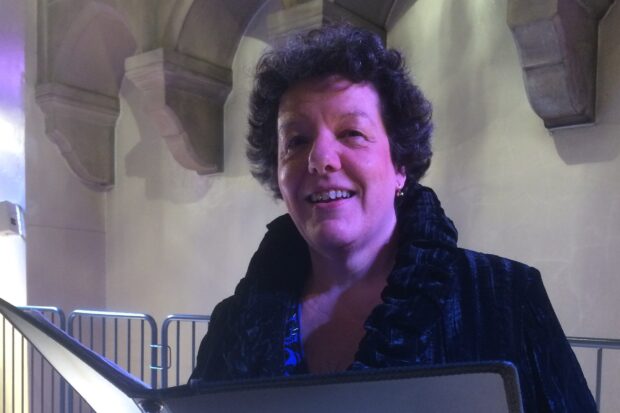 Profile
Job: Rural Development Manager,
Organisation: Rural Payments Agency (RPA)
Years in Public Service: 35
My grandmother/mother was a…
My grandmother was born in 1905 and would have been one of the first women to have the vote when it was extended to all women. We must not forget, of course, that her father, an engine driver, would only have had the vote a few years himself at that point.
She had an aunt, a schoolmistress in York, who played the organ in York Minster when the men were away at the Great War. She was a suffragette and, when my grandmother was a young woman in the 1920s, took her to see a film about venereal disease, which must have been quite shocking at the time!
I would like to think that this pioneering aunt would have been proud of me, both for my feminism and achievements on behalf of women and for my musical achievements.
My mother was taught, at the same Girls' High School that I attended, by women who had been suffragettes and, in some cases, among the first women to take degrees from Cambridge. It was a school that was run by women and actively promoted independence and achievement for women. I think we lost a great deal when the traditional girls' grammar schools were closed.
Me in a paragraph
I have been a feminist since my teens, when I realised that, whilst working class men could earn enough to live on, women could only do so if they had degree level qualifications and professional jobs.
My early working life was plagued with casual and institutional sexism – before I joined the Civil Service, the local Labour MP came into the welfare rights centre where I worked and said, 'You should gerroff 'ome and leave your job forra man' – and, in the old Ministry of Agriculture, Fisheries and Food, women could not go on fishing vessels or contribute to the dependants' element of the pension scheme.
There were very few women above HEO and the assumption was made that, once a woman was married, she had no further career ambitions. I fought this through the trade union movement, eventually becoming the Equal Opportunities Officer for the RPA Trade Union side and obtaining a postgraduate diploma in Industrial Relations, specialising in Equality, from Keele University. I am proud of the many personal cases that I have won over the years for women and people with disabilities.
Outside work, I am a musician, a classically trained mezzo soprano and, as retirement approaches, I am studying for a new career as a local soloist and teacher. The music world still has a long way to go in female equality and I was overjoyed to see that Marin Alsop had been appointed as Chief Conductor of the Vienna Radio Symphony Orchestra, in a city where the Vienna Philharmonic did not accept women as full members until 1997.
My role
I am a Rural Development Manager in the Rural Development Team in RPA. My main role is to carry out technical appraisals of applications for large grants from farms and other rural businesses, as well as for research funding under the European Innovation Partnership.
I have worked with the agricultural industry for virtually my whole career and, when I first started visiting farms in the 1980s, was treated as something of a curiosity – almost an honorary man. It is refreshing to see, now, how many women are involved in agriculture – as farmers, agents, vets and technical experts – and how many rural businesses are now run by women.
I always felt that women were a hugely under-utilised resource in rural England, and I hope that their participation continues to grow and that I can support that.
If I had a magic wand, what I would do to accelerate gender equality?
I think that we must be very careful to ensure that the identity politics agenda does not squeeze out the reality that, over centuries, women have been discriminated against because of their biology – menstruation, childbirth, lactation and the menopause have all given the male establishment excuses to discriminate against women.
At a union conference about 25 years ago, when making the case for field inspectors to receive day subsistence, I started a speech with the words, 'Women bleed'. The shock in the hall was palpable but we are now hearing reports from teachers about teenage girls who are missing school in the UK because they can't afford sanitary protection. This is inhibiting the achievements and life chances of thousands of girls.
As an older woman, I welcome the very recent recognition in the Civil Service that the menopause exists, and affects the ability of many women to do their jobs, but I suspect that this is not the case for most private employers. I would like to see menstruation and the menopause recognised in the Equality Act as factors which affect women in the workplace, and for reasonable adjustments to be required, by law, as they are for people with disabilities.
Subscribe to this blog for more stories from inspirational women. You can also follow Suffrage Centenary on Twitter.