Profile
Job: Policy Advisor
Organisation: Department for International Trade
Years in public service: 4
My grandmother/Ba was …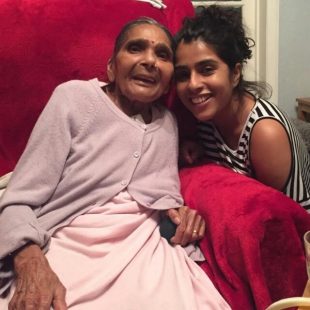 The strongest person I know. She was born in India, got married to my grandad (who was equally amazing) when she was 13.
From what I know she used to work in the fields in India before moving to Bradford in Yorkshire with my Grandad and her eldest son.
When she got to the UK she worked in an onion factory, raised three children and around the time she retired she also looked after her grandchildren. She was extremely intelligent, with an innate and amazing ability to judge and mediate any situation perfectly.
Me in a paragraph
I have always been interested in understanding what we as individuals and as a collective can do to make the world a better, more equal place. The reason for this is strongly related to my long term interest in reading all things history, economics, gender, environmental, inequality and politics related.
I went to school in Devon until I was 18, and then moved to Birmingham to study International Relations with Political Science at the University of Birmingham.
After finishing my degree I wanted to continue studying so I went to the School of Oriental and African Studies to study Law, Development and Globalisation. I studied part-time for my Masters, which gave me the opportunity to work with adults with mental health issues, Fairtrade groups and women affected by domestic violence.
Once I finished my Masters I worked in the charity sector and then joined the Civil Service in 2014. I love living and working in London, primarily because of the diversity and the opportunities available.
Apart from this I love travelling and have been to some beautiful countries like Brazil and Cuba and I am currently looking forward to visiting Jamaica with my lovely family and St Lucia with my lovely friends.
My role
I am currently working in the Civil Service Diversity and Inclusion Strategy team leading on faith and belief policy. As a team, we are working with colleagues across the Civil Service to make the Civil Service the UK's most inclusive employer by 2020.
I see my role as key to achieving this ambition as faith and belief is an important part of who our colleagues and fellow citizens are, and it continues to have a significant impact on the world we live in.
When I started this role, nearly two years ago I led the race equality policy, which has now expanded to an Ethnic Diversity Programme team led by the super job share Deputy Directors Roxanne Ohene and Vicky Elliott.
Around this time last year, I began to look at what becoming the UK's most inclusive employer would look and feel like from a faith and belief perspective - and the journey has been fascinating.
Faith and belief is a relatively new area of D&I policy, both from inside and outside the Civil Service, so I have been able to work with staff networks, champions and specialists to develop the policy and its priority areas. I enjoy the role because it is a complex and really interesting area with clear links to a wider range of policy areas across government.
So, in short, I am really proud of how far the work on faith, belief and inclusion has come and I am excited to watch it grow and develop across departments.
It has been an amazing two years, and I have had the privilege of working with so many amazing people inside and outside my team, the Permanent Secretary Faith and Belief Champion Clare Moriarty and staff networks, but I am excited to be moving ahead to the Department for International Trade for new opportunities and challenges.
If I had a magic wand, what I would do to accelerate gender equality?
I would ensure that every boy is raised a feminist and taught the importance of being personally responsible for ensuring that people of all genders are treated equally, in every sphere of life - this includes at home, at work, in sports, in education in politics, in health, and the list goes on.
 Subscribe to this blog for more stories from inspirational women. You can also follow Suffrage Centenary on Twitter.