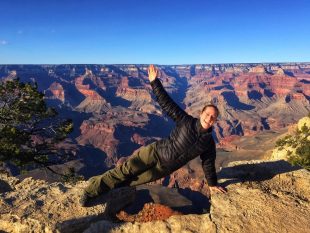 Profile
Job: Executive Officer to Assistant Chief of the General Staff
Organisation: Army
Years in public service: 9
My grandmother/mother was a…
My grandmother was a pioneer!  She was the one of the first women to be ordained as a Priest in the Church of England.  She was in the second ever cohort, attending her training in 1995.
This caused a degree of upset and certainly controversy in the Church – some people would completely ignore her, speaking only to her husband, others would say some nasty things about women not being up to the job.
When she talks about it she comments that she and my grandfather "had never heard of this business about men and women not being equal!" – the stoic support she received at home and her own sheer determinedness meant she kept doing the job that she loved, despite the opinions of others, and in her time she has seen a shift in attitudes.
After a move to Grasmere in the Lake District, she spoke to members of her congregation – one older lady memorably said "well I wondered what it would be like with your being a woman, but then I saw you arrive on that motorbike and I knew you'd be alright…!".
Me in a nutshell
I am an Officer in the Royal Artillery.  I have served overseas in Afghanistan, lived in Germany (as well as various places in the UK), and undertaken military training in the USA, Israel, France, Austria, and Singapore to name a few.
I've stayed in dodgy hostels with military mates exploring Bulgaria, Istanbul, Cologne, Lithuania and other fantastic places, soaking up the culture and history (along with sinking a few beers).
I love the challenges and opportunities afforded to me as a result of my being in the Army – particularly the ability to travel the world and the close friendships you form.
I come from a military background (my father served) but was never pushed to join the military; I actually studied physiotherapy at university and very nearly pursued a career in the NHS.
While I've no doubt I would have enjoyed the work, I have never looked back from my decision to join the Army.  It's clichéd but I have made friends for life – and will be celebrating my wedding with some of them later this month!
My partner is very enthusiastic about life and constantly motivates me to do more, to be better and to try new things.  As a result, I have completed my first triathlon, a Spartan race, am learning a new language (French), have tackled my fear of swimming and even explored the jungles and volcanoes of Costa Rica!
I have always been told that if I set my mind to something, and work hard at it, I stand a chance of achieving it.
Limitations were not placed on me or my sister (certainly not because of our gender) and my parents have always encouraged us in our endeavours (even when, aged 5 I decided that a lollipop lady was in fact, the career for me!).
Both my mother and my father have been excellent role models, successful in their lives and careers and demonstrated that gender is no barrier to achievement.
My role
I currently work within the Ministry of Defence in London on the Army Staff.  That means I am part of the forward element of Army Headquarters (the remainder being in Andover) providing a link in to the activity that happens within Defence across Whitehall.
Specifically, I focus on engagement and communications alongside coordinating the work outputs for the Assistant Chief of the General Staff's Directorate (workforce).
It is a fantastic opportunity and I have learnt a huge amount about how the Army links in with the Royal Navy, Royal Airforce and Civil Servants.
Whilst working here I have been involved with the MoD SE Gender Network which has meant I have been able to interact with other colleagues working cross-government through attending various events including International Women's Day at Portcullis House and the unveiling of the Millicent Fawcett statue in Parliament Square.
If I had a magic wand, what I would do to accelerate gender equality?
Greater representation at board and senior management level – growing talent takes time so I would love to 'flash forward' to a point where that had happened, and board decisions were considered by a more representative set of people.
The Army is consistently named in The Times' top 50 employers for women, and is a great place to work as a female – it would be wonderful to see more female role models in senior positions.
Anything else you'd like to say
"A woman who has knowledge will see her palm lines bloom into a map of the world"
For Those Who Listen When Courage Calls by Theresa Lola (link)
Subscribe to this blog for more stories from inspirational women. You can also follow Suffrage Centenary on Twitter.