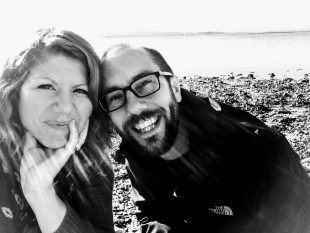 Research Officer, Environment Agency
Years in Public Service: 15
My grandmothers/mother were…
My paternal grandmother, Ganna, was born in 1921, and was forced to leave school at 15 years old to help on the family farm, working on a milk round during the Great Depression. Ganna was an intelligent, sharp and creative woman. She was a bright pupil at school and very good at science. We know this because she won the science prize (a book) in her last year at school. Who knows what she could have done if she was allowed to finish her education and go university?!  She became a farmer's wife in 1946 bringing up her family of two children.  What would she have thought about equality? She was a private, reserved woman who was never heard to complain about her life. Dad is sure she revelled in the achievements of her granddaughters though.
My maternal grandmother, Ganny, was an officer in the WRENS during World War II stationed at various places. She was involved in the D-Day landings on a top secret assignment to the Admiralty based in the Isle of Wight. She also drove ambulances in Chelmsford during the war, helping take on the jobs of men. After the war there weren't many jobs for people so she worked part time for a manufacturer near Ware in Hertfordshire. She stopped working when my mother was born.  Apparently my grandmother had strong views and was a brave woman. She ran protests against issues she felt passionate about and wasn't afraid to contact their local MP. My mum said if her mother was born a few years earlier, she would have been a suffragette in her time. She loved fast cars, had a Christian faith and was very generous and compassionate towards others.
This brings me on to my Mum. A remarkable woman. Full of strength, faith, generosity and compassion. She's taught me the importance of manners, respect, caring for others and gratitude. Mum was brought up under strict Victorian rules; children were seen but not heard. Despite Mum being the eldest, her brother had first place being the boy in the family. This didn't hold Mum back, she was involved in the Young Farmers, Young Conservatives, ran a youth club, was a product demonstrator, ran a Bed and Breakfast, hosts Henley Regatta crews, heavily involved in the Woman's institute – and was president for 11 years.  She is currently celebrating 47 years of poppy collecting, is chairman of a Neighbourhood Action Group  and her involvement in the community caring for so many is just mind-boggling at times. She never stops!
Me in a paragraph
I'm a curious, sociable, caring and empathetic person with a positive and enthusiastic approach and outlook on life. I care deeply about people and our environment. This definitely comes from growing up on a farm and being around so many different and wonderful people. My Christian faith plays a huge part in who I am too.  I thrive in situations where I can help make a positive change, engaging and connecting and building relationships for the benefit of others. I love mentoring, supporting and encouraging others to grow and flourish, overcoming their limiting assumptions which we can all have that stop us from stepping forward and being our best selves.
 My role
I work in Research, Analysis and Evaluation department at the Environment Agency, delivering our academic placements programme. We've developed an approach that makes it easier, fairer, and consistent and more transparent to recruit internships. In addition to this role I'm leading on our Nuffield Research Placement social inclusion project, giving Year 12 STEM students, especially from disadvantaged backgrounds the experience of working in research for 4-6 weeks this summer. I'm really excited about this as I love helping encourage and support others in their own personal development.
In addition to these roles I support our publishing work, internal communications and engagement priorities along with mentoring staff across the EA. I'm a member of our Women's Network and I'm keen to get more involved in our faith agenda at work too. I'm a strong supporter of 'bringing your whole selves to work' embracing our differences, respecting and getting to know each other better, having the courage to open up more so we can connect with each other and form better working relationships. I've found work is more fulfilling this way too.
If I had a magic wand, what I would do to accelerate gender equality?
Educate equality and diversity early with children. I have two sons so I encourage these discussions at home. I want to see more changes in the workplace where there's a culture for all to be heard, respected and encouraged to use their skills and talents no matter if you're male or female and from the inspiring stories we have heard from the centenary of women's suffrage we all decide to take some action! For me, I see us all as equals, each with our own gifts! If you can look above the competition, egos and our own fears, we all have capacity to do and be so much more. But it is up to you.