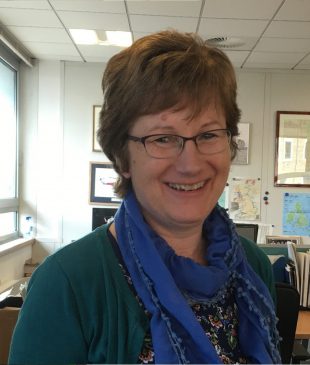 It's more important than ever that we celebrate and recognise the achievements of women in business. To help us do this at the Maritime and Coastguard Agency (MCA), we're aiming to run 100 blog-posts written by female members of staff. But the trouble with having an idea is that you have to go first! So here goes…
My career in a nutshell
Every career path is different and mine really shows some of the changes that have come along with improved gender equality. My career in the Civil Service started in 1979 in the Legal Aid department. After five years, I was expecting my first child and my options were limited – I could resign from my job or return full-time after maternity leave. There weren't many childcare options in those days, so I left the world of work and looked after my children for 12 years while my husband did two jobs to pay the bills!!
In 1994, we made a conscious decision to change roles. My husband took voluntary redundancy and became the main carer for the children and I was reinstated full-time in the DWP, where I worked for six years before joining the MCA audit department. After a number of years working up to HEO grade and a secondment working at DfT in London, I was back in the MCA when there was a major organisational restructure taking place. As I was working on a project at the time, I found myself being put 'at risk' with the task of applying for permanent roles – all very stressful!! A G7 role came up that attracted my attention, but I thought, how can I possibly jump from an HEO to G7 – but on the other hand, what did I have to lose?
It wasn't an easy path to get the job, but after two interviews, a presentation and a gruelling 'in-tray' exercise, I was finally successful and here I am today. Starting from a practically zero knowledge base, I have been responsible for the educational prevention policy for keeping people safe on the coast. It has taken hard work and dedication to earn the respect of my MCA peers and external stakeholders, but I can now say that my knowledge, expertise and passion is vital in helping to work towards reducing the number of drownings in UK waters.
Creating the Women's Network
Over the years, I have watched the struggles women have had to go through to be recognised for their skills and qualities, and I was inspired to do something about it, so I set up the MCA Women's network.
So, if I had a magic wand, what would I do to accelerate gender equality in the MCA? I would carry out a full review of recruitment processes, looking at the gender/pay gap in specific roles and the necessity for qualifications and experience that are traditionally gained by men.
I hope that this post will inspire other women around the MCA to write something to share their experiences. It's by supporting each other that we will continue to strengthen the representation of women in the Agency. And for those of you who are in the latter parts of your careers, I would like to share with you one of my favourite quotes from Maya Angelou: "At 50, I began to know who I was. It was like waking up to myself."
Kirsten Pointer: Head of Secretariat, Evidence Analysis and Drowning Prevention