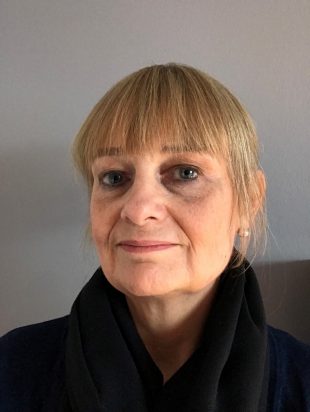 Julie Pierce
Director, Openness, Data and Digital, Food Standards Agency
Years in Public Service: 9
My grandmother/mother was a…
My grandmother was a social worker, until she got married, and then she became a housewife – as convention dictated. My mother was a teacher all her life – I think they'd be pleased to see the progress that's been made for and by women but shocked at how slow it's been. 
Me in a paragraph
Fundamentally, what makes me tick is curiosity. I want to understand how the world works, whether that's the physical, mechanical, digital or human world. That's what's driven me through a career that's gone from looking for oil, repairing aeroplanes, hunting submarines, keeping food safe and, last but not least retail banking.
My role
I'm responsible for communications in the broadest sense. That includes overseeing the Communications Directorate, our digital interactions with the world, the way that data drives what we do. Running through all of this is a drive to make the whole of the food system more open and transparent for our consumers. I also play a key role in innovation and understanding how technology will help the food sector in the future. It's a broad, deep, complex challenging sector with multiple actors and constant change and it feeds my endless curiosity and it's where I feel that I can really make a difference.
If I had a magic wand, what I would do to accelerate gender equality?
Sometimes I feel like a need a magic wand to keep hold of the progress we've made so far. While it's clear that the options for women are far greater than they were when I started my career (for example – women weren't allowed on oil rigs, it was considered bad luck)…but it still feels like there's a credibility gap for women especially in senior roles and certain sectors, where a man would be instantly listened and believed, a woman less so. It's hard to pin down, and that's what makes it so hard to tackle, because it's harder to call it out.
Anything else you'd like to say
I'm a great advocate for women in STEM. I go to talk in schools to girls – I hope as a role model – and I want them to see what they could do and open their minds to different careers. It baffles me why still so few girls choose a career in STEM.