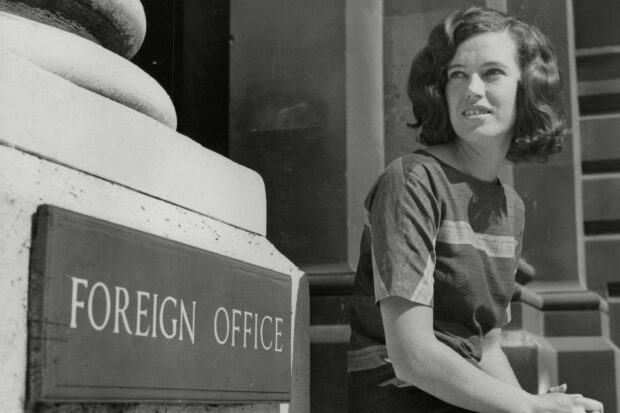 Organisation: Foreign and Commonwealth Office (FCO)
Years in Public Service:236
My grandmother/mother was a…
Women have worked in the Foreign Office since its formation in 1782. The first Foreign Secretary, Charles James Fox, had an employee whose job title was 'Necessary Woman', who cooked and cleaned.
The unofficial (and unpaid) work of women was much more important, however: diplomatic wives often had a huge impact as hostesses but also as diplomats. Lady Mary Wortley Montagu, wife of an eighteenth century Ambassador to Turkey, spoke three languages, frequented the Sultan's bathhouse and went about Constantinople in disguise in order to better understand her host city.
The humanitarian and charity work of British diplomatic wives was a common feature of the Victorian period, too.
Finally, a number of remarkable women transcended their sex, like Freya Stark and Gertude Bell, whose knowledge of the Middle East led to their appointment as government advisers – officially and unofficially – in the first half of the twentieth century.
Me in a paragraph
Women were first admitted to the British Diplomatic Service in 1946, in recognition of their wartime contribution to work of the Foreign Office and a desire to show the world that Britain was a progressive, democratic country. They were not admitted on equal terms: women had to resign on marriage until 1973, and a ten% was placed on female recruits which was quietly dropped in the mid-1960s.
The first female High Commissioner was Eleanor Emery (Botswana, 1973); the first female Ambassador was Anne Warburton (Denmark, 1976).For the first married female Ambassador, it took until 1987, when Veronica Sutherland was sent to Côte d'Ivoire.
The impact of second-wave feminism and diversity politics began to be felt at the FCO in the 1990s, when the organization's commitment to 'Opportunity 2000' in 1991 marked the first truly proactive step towards gender equality in its history.
My role
Today, 45% of all FCO staff are women, but for the Senior Management Structure, this figure falls to 33%. The FCO gender pay gap is estimated at 12.7%, which is mainly because the concentration of men is greater in the top grades.
Milestones are still being passed: NneNne Iwuji-Eme was appointed High Commissioner to Mozambique in 2018, becoming the first black British female career diplomat to be appointed British Head of Mission.
Also in 2018, Karen Pierce became the first ever woman to represent Britain as Ambassador to the United Nations.
There are women as Heads of Mission all over the world from Australia (Menna Rawlings) to Zimbabwe (Catriona Laing).
The Foreign Office now has a Special Envoy for Gender Equality, Joanna Roper, and has specific policy objectives relating to issues such as girls' education and Preventing Sexual Violence Initiative.
If I had a magic wand, what I would do to accelerate gender equality?
Make sure everybody knows about the history of women in public service. There is no better argument for accelerating gender equality in government than the manifold and diverse achievements of women in the history of British foreign policy – historically against the odds. Moreover, learning from the structural and cultural barriers to gender equality, and how they were overcome, provides an invaluable tool for combatting today's very different barriers.
Those who would like to know more about the history of women at the Foreign Office might want to check out the FCO Historians 'History Note', Women and the Foreign Office, which tells the story of women in British diplomacy from 1782 to the present day.

Subscribe to this blog for more stories from inspirational women. You can also follow Suffrage Centenary on Twitter.