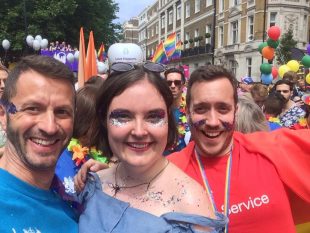 It is a truth universally acknowledged that ogres are like onions. I believe that people are like onions too. Like ogres, we have layers.
Like other contributors to this Suffrage Centenary blog series, I identify as a woman. I can often be found expounding upon feminist ideas, or making the case for the deconstruction of the structural barriers faced by women at home, at work and in the wider world. But there is, of course, much more to me than my gender.
I'm also a huge musical theatre fan. I'm bisexual. I'm a strategy and policy professional, working in EU exit. I love visiting transport museums with my dad. I'm a millennial. I've lived with Depression since I was at primary school. I'm a trustee of a small, charitable housing association run by and for the LGBT+ community in London. I'm Autistic. And I'm learning to be a stand-up comic in my spare time.
No single one of these identities defines who I am. Some I am more comfortable talking about than others (and some, I have become more comfortable talking about since I joined the Civil Service). And yet each and every one of them is a crucial thread of what makes me, me. Collectively, they tell (part of) the story of how I experience the world.
We all have multiple identities – these are the layers to our onions. Our protected characteristics and communities (from our religious group or generational cohort to "people with caring responsibilities", or "train enthusiasts"), influence how we understand ourselves, and how we are understood by others. And in this suffrage centenary year, one of the many things I'm reflecting on is how we can go about building working environments – and diversity networks – that embrace every layer of our onions.
There's a great maxim doing the rounds in Whitehall and elsewhere at the moment that "diversity is being invited to the party; inclusion is being asked to dance". Diversity and Fair Treatment are incredibly important values, and the civil service as a whole is generally quite good at putting them into practice.
But if we only ever look at our teams and colleagues through the lens closest (or most relatable) to us, we're not seeing the whole picture. If we only invite one layer of someone's onion to dance, we're not being inclusive.
'Intersectionality' is a concept developed by academic Kimberlé Crenshaw in 1989 to explain the way that the different threads of our identities intersect to amplify and exaggerate aspects of our experience. Originally developed to explain the experiences of multiple discrimination by BAME women (i.e. of racism from other women, and of sexism from BAME people), it's a concept that resonates with many people who have multiple identities.
Popular culture is increasingly telling some of these stories too. The BBC film 'Pride' does a brilliant job of using humour to unpack the ways that gender influences and differentiates the experiences of gay men and lesbians. A recent documentary on Channel 4 'Are you Autistic?' explored the many ways that society, the passive assumptions of medical professionals and diagnostic criteria have combined over decades to erase the lives and experiences of Autistic women – and to make it much more difficult for us to access diagnoses and support.
My sexuality, my gender, my mental ill-health and my disability all impact the way that I experience the world, and my work. In the civil service, we are generally quite good, I think, at making space for conversations about the experiences of people with protected characteristics, and taking action where necessary to provide them with support.
But if we are to truly bring our whole selves to work, that has to mean (where we choose to) bringing every layer of our onion. And if we're going to create an inclusive space for others, we have to be aware of their whole onions too. And that means taking an intersectional approach to inclusion.
We've come a tremendously long way in the last hundred years, and there is a lot that we still need to do. We can – and must – get better at making space for people with multiple identities, especially when that means sharing our resources, or deprioritising our own projects sometimes.
We're still working out what intersectional inclusion looks like. We won't always get it right, and we will all make some mistakes. But it's a necessary challenge, and if we embrace it together, we'll change the world.