Profile
Job: Estates Projects Support (Apprentice)
Organisation: HMRC
Years in public service: 1
My grandmother/mother was a…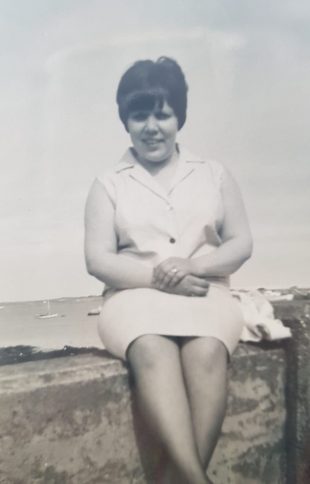 My Nan, Doreen Hayburn (neé Scapens), worked in printing and bookbinding from when she left school at 15 until she left in 1963 after marrying my grandad, a joiner.
My Nan was a stay-at-home mother to her 4 children. My grandad paid her "housekeeping" for looking after the kids and the house; that was her job, so she saw to it that she was paid just like a childcare provider would be, and woe betide anyone who tried to tell her what she should do with her housekeeping money!
My mother was a young single mum, giving birth to me at 18. My dad wasn't around and didn't pay maintenance, so she worked long hours to support the two of us and to make sure I never missed out on things like school trips. Back in the late 90s she worked for Aldi, and in those days they didn't have itemised tills; she was expected to memorise the price of every item in the shop! She's now a shift runner at KFC. Like my Nan, she's a vocal woman who stands her ground, and I think they have both influenced me strongly in trusting in my own viewpoint and voice. I'm not always the most confident public speaker, however I've always trusted that my opinion is worth bringing to the table.
Me in a paragraph
Being in my late twenties and married with two daughters, I'm probably not what people picture when they hear "apprentice". I'm currently a Fast Track Apprentice, studying Level 4 qualifications in Business Administration. Shortly after I joined HMRC, I was diagnosed with a neurological condition through a departmental eye test and underwent emergency brain surgery, so in the past year I've had a lot of big adjustments; to life in the Civil Service, to studying again, and to managing a lifelong medical condition.
I joined the Fast Track because I was looking for a job that would keep my mind busy as well as my hands. I'm inquisitive by nature, I want to know how everything works, so the chance to study while I worked appealed. I already had my A-levels so I looked at the level 4 apprenticeships on offer, hoping to find something that would stimulate and challenge me, and the Fast Track caught my eye because the idea of public service has always had a draw for me. I'm proud to be a part of that, and I've certainly found a challenge here. I'm excited to see where my Civil Service career takes me.
My role
I work in HMRC's Estates Services, within Projects Planning and Delivery. PPD fulfil commissions relating to HMRC's legacy Estate from various programmes and lines of business, including the Building Our Future Locations Programme. This could be anything from accommodating new staff, to vacating a building, or installing a new tea point.
I'm an Officer on the Support Team to our Grade 6. We compile reports, answer queries and undertake continuous improvement activities, as well as providing a secretariat function to PPD's leadership team. That's really only the tip of the iceberg, though. We handle a lot of Ad Hoc requests and we're often called upon to be responsive to the swift changes which are inevitable in a projects environment. I find it really energising to be kept on my toes; no two days are the same here and I get a lot of autonomy. My pet project is the team newsletter, which I send out each month. My small contribution to building a community amongst a geographically widespread team.
If I had a magic wand, what I would do to accelerate gender equality?
Reproductive health is a huge one to me. Enabling women to make informed choices about their own bodies is fundamental, and an area where there are still legal and policy gaps. If we can't recognise legally and medically that a woman's body is her own, then we will never get it recognised socially either.
That, and making space for more women in STEM disciplines. My best friend is a PhD student in Robotics and it's shocking how overt some of the sexism she's experienced still is. I want a world where my daughters can pursue whatever field they want without having to worry about that.
Subscribe to this blog for more stories from inspirational women. You can also follow Suffrage Centenary on Twitter.