Profile
Job: Senior External Relations Manager
Organisation: Department for Transport
Years in public service: 6 
My grandmother was a…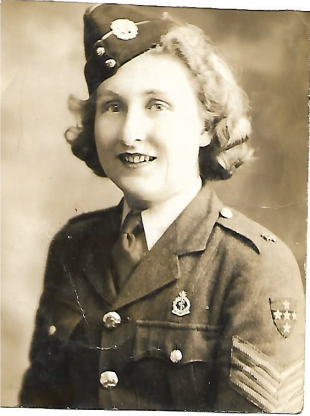 Shorthand typist and secretary. Born in 1915, Gladys was due to leave school at 14 but was encouraged by her headmistress to apply for commercial college. Her mother took on sewing clothes in the evenings, in addition to a full time job, to pay for the course's costs and Gladys entered working life as a typist. Throughout her life my grandmother remained passionate about the opportunities afforded by this education - saying she would have otherwise gone to work on the factory or shop floor.
In 1941, with a husband away in the army, she answered a news broadcasters' call for typists to join the war effort. She joined the Auxiliary Territorial Service and rose to the level of Sergeant. As a child, I often heard how her service during this time meant the world to her. When my grandfather was demobbed in 1946, she went to work for a local council and was a secretary for the rest of her working life.
My grandmother was very proud of me and my twin sister being the first in our family to go to university. I often think now about what she would think of the opportunities that my education has presented to me.
Me in a paragraph
I love getting stuck into the issues that make a big difference to our lives every day. I started my career in the charity sector, working with young people to support them to campaign on the issues they care about, before moving into public affairs on local and national government priorities.
Ensuring people are valued equally, listened to and included is also important to me. I sit on the Government Communications Service (GCS) Shadow Board, which supports the GCS to become a more inclusive profession. I'm also a Board member of Women in Transport, a not-for-profit organisation that works to advance women in a traditionally male-dominated sector.
My day job
I'm responsible for designing and delivering communications and engagement on government priorities for aviation. I build and maintain strong relationships with a range of stakeholders across the UK to listen to their views and work in partnership.
A major moment recently was a decisive vote in the House of Commons backing plans for a new north-west runway at Heathrow, which would support jobs, growth and connections across the country.
If I had a magic wand, what I would do to accelerate gender equality
Accelerating the shift towards shared caring responsibilities. This is key to shaking up assumptions of traditional gender roles. It has been great to see senior leaders within the Department for Transport take shared parental leave recently.
Subscribe to this blog for more stories from inspirational women. You can also follow Suffrage Centenary on Twitter.