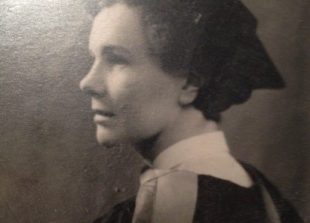 Profile
Job: Global Health Research Programme Officer
Organisation: Department of Health and Social Care
Years in public service: less than 1
My grandmother was a…
My granny (pictured) sat her finals in 1953 receiving a double honours in English and Philosophy from the University of Nottingham. Although this was many years after the University opened its doors to women there were very few women in her class.
This was partly because places for women at universities were scarce with priority being given to men who missed their opportunity as a result of WWII, but also because philosophy was typically tied to priesthood which for the Church of England wasn't open to women until 1992.
She celebrated her finals by driving a car across the university's quad with a friend, after which they erected bollards to prevent such inappropriate acts of celebration!
My granny said that there was "always money for education" and valued the education of her daughter as much as that for her sons. Following her time at university, however, she saw her role first and foremost as mother and wife and was judgemental of those who believed they could have both a family and a career.
Nevertheless, when her daughter and son-in-law decided to do things differently, whereby he stayed at home to raise their two young children, my grandmother did eventually come round to an alternative family organisation with admiration that they had "done it their own way".
In terms of today's progress for gender equality, I think my granny would be pleased to see people campaigning for gender equality. I believe a lot of the issues that we now see publicised would probably feel quite alien to her, which I think reflects some of the progress that has been made.
Me in a nutshell
I am the oldest of four girls from a white, upper-middle class family. I was born in the UK and educated at a state school before going to the University of Cambridge (read privileged). One of the first jobs I did was as a street fundraiser or 'chugger' which taught me the extent to which we judge/are judged on appearance.
Recently I have engaged more in conversation and debate on gender, sexuality, racism, marriage as an institution and the menstrual cup. While sometimes heated, these have reminded me that we often have the most influence over those nearest and dearest - whether family or close friends - and that change starts somewhere.
My role
My team's work began in 2015, aiming to fund health research with direct relevance to people in low and middle income countries on the Organisation for Economic Co-operation and Development - Development Assistance Committee (DAC) list (the DAC is a unique international forum of many of the largest funders of aid).
This work draws on the strengths of the UK's National Institute for Health Research, and includes building partnerships between different funders as well as researchers across the world.
So far, research areas range from podoconiosis (a neglected tropical disease) to diabetes and cardio vascular disease, reflecting the double burden of disease increasingly experienced by people and populations in low and middle income countries.
If I had a magic wand, what I would do to accelerate gender equality?
I would ensure everybody's voice was heard. In the absence of a magic wand I think the most important steps we can take to ensure gender equality is to recognise when we are in positions of privilege and have a voice or a seat at the table.
I believe we should use our privileged positions to echo the voices, concerns, and struggles of those who do not have such an opportunity.
Anything else you'd like to say
For those looking for an introduction to gender issues, or even a crash course in the basic language UN Women's self-paced e-learning modules may be of interest – many of them are free! https://trainingcentre.unwomen.org/portal/
Subscribe to this blog for more stories from inspirational women. You can also follow Suffrage Centenary on Twitter.