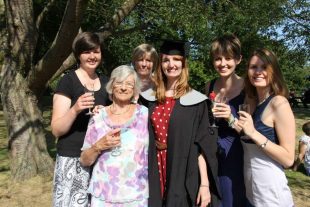 Lizz Willott
Biodiversity Officer, Environment Agency
Years in Public Service: 4 months
My grandmother/mother was a…
My gran on my dad's side was a telephonist and my nan worked in various roles in factories, in housekeeping and as a dinner lady. Surprisingly, it's not something I've discussed with either of them. I'll have to bring this up over a cup of tea one day! 
Me in a paragraph
I've grown up surrounded by great women all my life, being the youngest of four girls. We're all completely unique, are scattered across the country and have taken different career paths but it's great when we are all together, especially as we all love board games. Being in an all-girls secondary school also definitely helped to challenge and push me to reach my potential as a woman, I don't think I was ever told that I couldn't achieve something because I was female.
In my spare time I like to explore, often with my camera to take macro photos of fungi, moths and lichens. I used to think I was the only person interested in mycology but turns out there is a whole world of amateur naturalist groups out there.  It's really humbling to see the incredible knowledge that exists within these groups and I can only hope that I can be that knowledgeable somewhere down the line.
My role
I'm lucky that I've come out of my MSc in Ecology into a job role that I absolutely love and uses my knowledge. I advise on internal and external permits, planning applications and flood defence maintenance, ensuring that works are not damaging protected species and habitats, and where possible pushing for biodiversity gains. I've joined a lovely team where I'm encouraged to ask questions and develop as much as possible, and I think it's a testament to the organisation that the team is made up of people who have been here for at least 10 years.
If I had a magic wand, what I would do to accelerate gender equality?
I think I'd like to give young women the confidence to go into a meeting and be reassured that their voice will be as valued and respected as their male colleagues. Seeing women in positions of power is certainly a brilliant motivator and it would be great to have more BAME women in those top jobs.