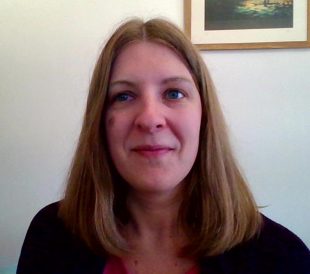 Briony Goulden
Senior Lawyer, Government Legal Department
Years in Public Service: 15
My grandmother/mother/friend is/ was a…
I'm a great-great-niece of suffragette Emmeline Pankhurst (née Goulden). Many of the women and men in Emmeline and her daughters' generations of the family were involved in suffragette activism, and endured police brutality, prison, hunger strikes and force feeding before the vote for women was won. I've always felt proud of the suffragette link, but it's good to be reminded of the sacrifices made to win progress for women, and I've had the chance to learn some new things through the centenary activities this year. This evening my dad will be featured on the BBC documentary 'Emmeline Pankhurst: The making of a militant' which will broadcast on BBC One North West at 7.30 and will be available on BBC4 and iPlayer later in the month.
In particular, I've been learning about another suffragette great-great-aunt, Emmeline's sister Mary Clarke, as she has a connection to my adopted home of Brighton. Brighton had one of the biggest suffragette branches outside London, and Mary was the local organiser. She died in 1910 shortly after being released from prison, likely as a result of damage to her health from beating and force feeding – an obituary described her as 'the first woman martyr to go to her death for this cause'. There are some great campaigns in Brighton this year to mark the work of Mary and other local activists – see the bottom of this blog for links if you're interested.
In less dramatic family history, but which has been a huge inspiration to me, my mum was head of housing and social care for a local authority as well as a great hands-on parent to four kids. And my maternal grandmother was widowed with two young children in Scotland in the 1950s a long way from her native Germany, but went on to become an award-winning travel journalist who worked well into her 80s.
Me in a paragraph
I have two young daughters, so life feels pretty busy. The time I had out for maternity leave was amazing in lots of ways, but did make me realise how important working is to my sense of self, so I feel very lucky to be able to do both. Women have only been able to practise as lawyers since 1919, and I'd have had to wait a lot longer to work in the Civil Service as a married woman and a mum. Outside work, I love to cook, especially if I get to share what I've made with other people. I've recently started volunteering for a charity that provides accommodation to parents whose children require long term hospital treatment, making the odd home-cooked meal for them. And I'm learning to play the piano about 20 years after I last tried, which is a frustrating but enjoyable experience.
My role
I advise on electricity and gas markets in the BEIS Legal team. The role is very varied, from advising on and drafting new legislation, to international and EU law issues. In each post I've had in the Civil Service I've had the chance to learn about a new policy area, from housing to carbon capture and storage, not to mention getting to see some of the politics at close quarters. There aren't many other areas of the law where you get such varied and stimulating work throughout your career.
If I had a magic wand, what I would do to accelerate gender equality?
I think the cost and availability of good childcare is a big issue for a lot of women. It was worth it for me to come back to work, but only just, even with two professional salaries coming in, and clearly those choices will be harder for a lot of families. I'd also love to see a bigger range of positive role models for kids on TV and in books - there is still so much lazy stereotyping. I read far too many stories to my daughters that describe a farmer planting crops and 'the farmer's wife' getting up early to milk the cows. And advertising aimed at kids is even worse.
Anything else you'd like to say…
For any readers with Brighton and Hove links, there are several campaigns this year to mark the City's role in winning the vote for women, including a crowdfunding campaign to put up a plaque to mark the offices of the Women's Social Political Union, where Mary Clarke was the local organiser. You can find out more on the Brighton Suffragettes #Vote100 Facebook page. There are also proposals for further plaques to some other key local suffragettes, Minnie Turner, Elizabeth Robbins and Clementina Black, and a plan to put up a statue of Mary Clarke in the Pavilion Gardens – anyone interested should contact the Brighton and Hove Suffrage Project via JeanCalder.ForOurDaughters@gmail.com.