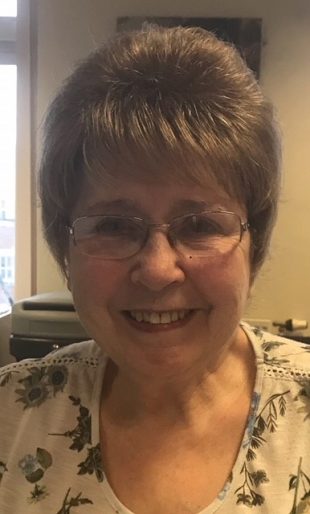 Alma Richardson
Work Coach, Department for Work and Pensions
Years in Public Service – 58 years (!) 
Alma is 75 years old and started work with the Ministry of Labour in Wallsend, Tyne and Wear on 7th September 1959.
In her family, traditionally the women didn't work and both her grandmothers passed before she was born.  Her maternal grandmother, Alma was disabled and in a wheelchair from an early age.  Consequently, her Mum, also Alma, was required to remain in the home after finishing school to look after her.  She then married and had 3 children, with our Alma being the youngest.  However, she was quite enterprising and ran a small business from home where customers would take a purchase order to a wholesaler, purchase goods and then pay Alma's Mum weekly.
Alma was the first in her family to go to Grammar School and achieved good passes in all of her "O" levels and had the ability to do similarly with "A" levels.  However, her life experience led her to believe that the expected path for a woman was to work only until married with children.  Alma therefore chose to leave education after "O" levels and join the Civil Service as an AO. When she told the Headmaster of her school she was leaving he said "a Civil Service Job was a waste of a grammar school education".   Alma though thought that working in the Civil Service seemed a great opportunity and was the first in her family to make an informed career choice rather than following other family members into more traditional local occupations.
At that time, it was possible to gain entry as an EO with "A" levels, so, Alma says that if she'd had a wider view of life, that would have been her choice but she notes this is her only regret about joining the Civil Service.
Alma was appointed to the Women's Employment section of the Labour Exchange and at that time it was expected women worked in the local factories, shop or kitchen work. Alma said there was very little else on offer in North Tyneside at the time.
Thinking back to the her early days in the Civil Service, Alma recalls that benefit rates were staggered at that time and depended on how many contributions people had paid – to determine this a shuttle card (request) had to be sent off to the Ministry at Longbenton. It would be returned a few days later with the information on it via internal post. Many women paid the small stamp (reduced National Insurance contribution) so therefore had very little entitlement to benefit.
She also notes that there were no security guards in any office and some were staffed by only 5 people. Fish and Chip lunches were common place for the office as well as people cooking a full lunch on the facilities in the kitchen.
When Alma married she was given a £526 gratuity which she used to make a deposit on her first home – this was 6 months' salary at the time. When she was reinstated after bringing up her family she had to repay it to ensure her pension entitlement remained intact.
Customer service has always been a priority with Alma and she recalls in the late 80's a regular claimant used to come in and try to intimate her reminding her he had been in prison for attempted murder. He was convinced no one would employ him because of this. Alma coached him to thinking about taking up a role in his father's business – he thanked her for believing in him and as a result of her support he said he had been able to turn his life around.
Alma now works 3 days a week, loves her Zumba, Line Dancing and Gym sessions. She has made it her weekly mission to visit various parts of the country using her bus pass along with her friends – seeing it as an adventure. She regularly visits her daughter in Egypt. She has fully embraced the Digital Agenda and is often seen on her phone during lunch times. She is also incredibly proud that her daughter and granddaughter attended University.
Alma is always up for a challenge both in and out of work. She says the DWP is a great place to work and the working conditions are second to none. She would recommend it as a great place to work. She is looking forward to getting to grips with Universal Credit Full Service when it reaches her present office at North Shields. Alma has enjoyed her working life immensely and, while basic principles have remained the same, she's experienced a huge culture change in the move to Personal Advisers. She is proud to have been part of a system that encourages people, including women to achieve their potential.