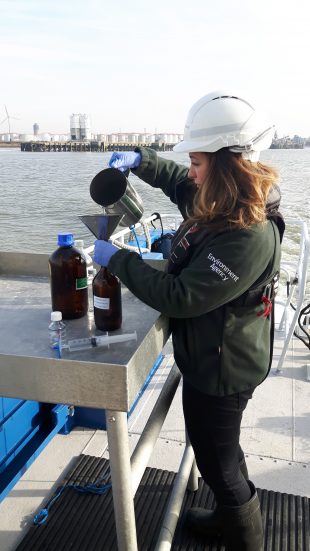 Job: Marine Technical Specialist
Organisation: Environment Agency
(seconded to Natural England)
Years in Public Service: 5
My grandmother/mother was a…
My gran, Christine, worked as a Fitter at The White House on Bond Street, London creating bespoke clothing for customers around the world. Unfortunately she had to leave her job when she got married, as married women weren't allowed to continue working. She'd be really impressed at the amount of opportunities available to women now and that careers don't end at marriage.
Me in a paragraph
I've always been interested in the environment but fell into marine science as I didn't get the right grades to get into my first degree choice at University. I didn't even know a career in marine science existed! I love to solve problems and enjoy working with a wide range of people to complete a project. Seeing the impact of my work and the improvements it makes to the marine environment spurs me on; whether it's managing a complex project to a tight deadline or a 5am survey start!
My role
I'm a marine scientist working in a collaborative role between the Environment Agency and Natural England. My secondment aims to link the estuarine and marine work undertaken by both organisations, making it more efficient and cost effective. The role is really varied from providing information to government ministers on Marine Protected Areas, writing scientific reports to presenting complex data at meetings. There's not many jobs where you can go from meetings one day to surveying alongside dolphins the next!
If I had a magic wand, what I would do to accelerate gender equality?
Everyone has a role to play in achieving equality and no matter how small, every action does count. One of my favourite quotes "If you think you are too small to make a difference, try sleeping with a mosquito."