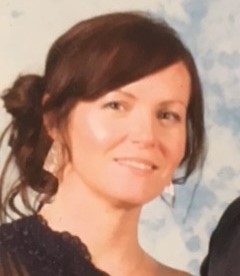 Job: C2 – Employee Engagement (MIDIT)
Organisation: RAF - MOD
Years in Public Service: 5 Approx 
My grandmother/mother was a…
When my gran was young, families struggled to support their kids. It was no surprise that she was sent to work as a servant in a large house outside Helensburgh from a young age. Despite having initially being born blind and partially deaf she never let this hold her back, and later ended up working in Singers Sewing Machine Factory. She had to give up work when she married as that was the norm back then, however when my grandad passed she found her independence again. I would imagine my gran to be supportive of how the times are changing.
My mum started out her working life in the Bible office of William Collins the publishers in Glasgow, and within a month was promoted to Personal Assistant for a Director. Having kids made working closer to home necessary. She began work in the delicatessen counter at William Low's and quickly found herself in a Supervisor position and later became a Manager in a Baker's shop. After a long time working in local factory she stepped into the care industry where she cares for people with learning difficulties. My mother has always been caring, strong-minded and hard working. Whilst she is 100% an independent woman and a supporter of gender equality she worries that the world may be going too far with a lot of it.
Me in a paragraph
Whilst at school I arranged to do my first ever work experience at Her Majesty's Revenue & Customs (HMRC) office in Cumbernauld or to the locals the 'Tax Office'. After the birth of my 3rd child I found myself back in there from 2006-2008 and left seeking that next challenge as despite all the voluntary extra duties I undertook I became bored.
After a marriage breakdown, I found myself a single parent with 3 children and despite the expectancy for me to step back a bit in my career, I chose the opposite path taking on high pressured roles in sales and recruitment combined with the task of juggling a household and parental duties. Bizarrely I enjoyed it, however when I did meet my now husband I realised that I didn't in fact have any 'spare' time and that something had to give.
I was then drawn to a position with the DWP in Motherwell Pensions Centre, which seemed challenging and started there in early 2015. Due to the pay not being reflective of previous jobs I found myself with a further 2 part-time jobs to compensate. Towards the end of 2015 the family and I relocated to Royal Air Force (RAF) Halton where I started my first position with the MOD working with RAF Recruitment and Selection Team. About a year later I obtained a promotion job at RAF High Wycombe and 6 months into that was accepted for the MOD talent scheme 'Means of Identifying & Developing Internal Talent' (MIDIT) and began my new position through that in late 2017.
MIDIT is the opportunity I have continually chased all my life, however as you will probably expect from reading this, I like to push the boundaries and have now signed up to do a Level 5 Apprenticeship in Leadership & Management.
Overall I would say I am a very hard working, strong and determined person who evidently thrives on a challenge and has an amazing supportive husband and family. I am loving life and working with the MOD! 
My role
As part of the Employee Engagement team based at Air Command, RAF High Wycombe we are responsible for the People's Survey across Air. My primary role is to engage with all Business Managers across Air to direct and assist them in implementing and supporting action plans across stations to make Air a better place for Civil Servants.
If I had a magic wand, what I would do to accelerate gender equality?
I think we should take a look at Sweden's gender equality and shared parental leave as in my eyes this is the way forward along with equal pay.
Anything else you'd like to say
Writing this blog has been such an eye opener and enjoyable experience. I have not only learned how far we have come with gender equality but also that I come from a long line of strong independent women.