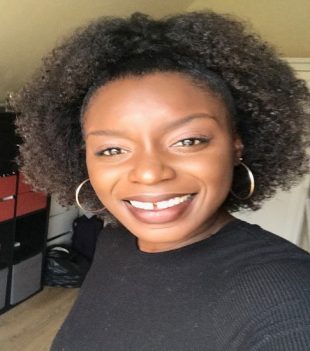 Job: Strategy Advisor
Organisation: Department of International Trade
Years in Public Service: 10 months
 My grandmother and mother was a…
 My grandmother was a housewife, as was expected of women during her time, especially as my grandfather was the equivalent of a Senior Civil Servant in Zambia. My maternal grandparents had 5 daughters including my mother and 3 sons yet encouraged all their children equally. My grandfather continuously showcased what it meant to view his wife as an equal and this is something I will always be grateful to have witnessed. Although my mother spent most of her childhood in boarding school, I can see the impact that her parents' relationship and advice had on her own life decisions.
My mother came to the UK as a student where she happened to also meet my father! My mother's generation were the first to go attend university in my family and I admire my grandfather's strength to ensure his children received the opportunities he was not privilege to. My mother joined the NHS straight after university and worked her way up the ladder, whilst managing to give birth to me, undertake another undergraduate degree and give birth to my sister and brother, in addition to studying and completing a masters. My mother has continually inspired me to achieve all I can with the educational opportunities I have in the UK and aspire to achieve more than she has, to pave the way for the future generation of women. My grandfather, grandmother and mother have all shown me what feminism truly is, by being living embodiments of what gender equality should be.
 Me in a paragraph
 I was brought up to value our shared humanity, to always advocate against social injustices and to champion for our shared right to full and equal life. At the age of 11 years old, I read a book titled 'Desert Flower: The Extraordinary Journey of A Desert Nomad' by Waris Dirie, which exposed me to child marriage, female genital mutilation (FGM) and other forms of gender – based violence targeted at women (and men). I will always remember this book as the 'turning point' in my life, the book that ignited my 'feminist fire' – what I describe as the burning passion/desire to ensure we are all able to enjoy our fundamental freedoms fought by our ancestors – and this fire has continued to blaze as I have progressed through life. I focused my undergraduate and post – graduate research on highlighting the detrimental impacts of gender – based violence against women and why gender equality is important to tackle in the public and private domain. My mother always highlights that I am 'definitely my grandfathers' grandchild' and he would be proud of what I have achieved. It makes me proud to know that as the second generation of my maternal family, I have also become a Civil Servant!
 My role
 My role varies each day, depending on departmental needs at the time. One day I can be supporting policy work on specific trade related issues and another day I can be identifying key strategic trade policy issues and making decisions within my authority. I enjoy the fact that my role has taught me how to work in a reactive environment and I have learnt the importance of remaining resilient each day. In addition to this, I am the HR and Policy Lead for DIT Women, which allows me to incorporate my dedication to equality and the empowerment of women at work. Ultimately, my long-term career goal is to work on gender equality related issues in policy but whilst I am young, I would like to expose myself to different roles in the Civil Service. I have learnt that you do not need to work specifically on gender to promote equality in your day to day life. I actively promote an inclusive culture in my team and wider department and ensure I apply a 'gender – lens' to all my work. By fostering positive values and behaviours in my team and wider organisation, I continuously contribute towards creating space for men and women to work together without fear of discrimination or bias.
 If I had a magic wand, what I would do to accelerate gender equality?
 For me, the most important step to ensure gender equality is achieved is to highlight each day why feminism and gender equality is relevant to men and women. Feminism is not a movement designed to imply that women are victims and men are perpetrators but rather, its purpose is to eliminate all forms of discrimination against women, with a view to achieve women's full equality with men in the enjoyment of their human rights and fundamental freedoms. Such fundamental changes to people's lives cannot solely be championed by girls and women; boys and men must be actively engaged in this process and movement for change.